Fellow:Poojitha Reddy Konkala
Jump to navigation
Jump to search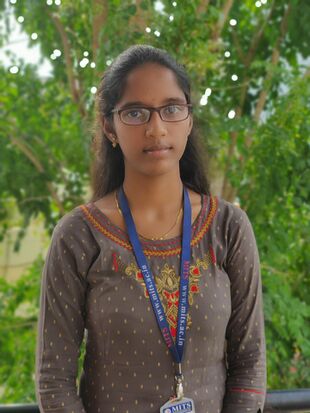 Name

Poojitha Reddy Konkala

School (Cohort)

Madanapalle Institute of Technology and Science (2020 cohort)

Majoring in

Computer Science & Technology

Country

India

Email
Bio
Poojitha Reddy hails from a small home town Madanapalle, where she is currently pursuing her Bachelor's Degree in Computer Science & Technology at Madanapalle Institute of Technology & Science in the state of Andhra Pradesh in India.
She is a proactive and committed girl. She has good management skills and knows how to get things done. She is a techie, who always shows a keen interest in the Computer Programming and other technological innovations happening around. She always admires responsible citizens who will do their best to contribute to society.
She is very sound in academics and an active member in many clubs like NSS (National Service Scheme), MITS Social Responsibility Club, Science Club..etc, this gained an identity as an intellectual and admiring personality. She is empathetic in nature and always strives hard to solve students' problems in the institute. Including all these, she is a graduate of Dakshina Bharat Hindi Prachar Sabha specializing in Hindi language.
Poojitha believes outcome-based education would help the students in learning the things practically. She strongly believes in her ability to continuously learn, grow, and improve. Being self-reliant, she learns quickly and supports her peers. These leadership qualities are acknowledged at the school level itself and she was awarded as the Best Student Leader.
Poojitha contributed her selfless services to the community with utmost commitment in collaboration with Arjuna Group Trust activities founded by Alumni of IIT Madras. She is good at gripping the knowledge and technical skills and always wanted to share things with others. Apart from technical things, she has developed good communicative skills and owns a creative mindset. She always sticks to her commitments and molds herself ready to adapt to the new environment around her. She has a good team spirit.
She loves nature and is sensitive to environmental issues. In her free time, she will engage herself in farming and planting trees. She is a divergent thinker and has a way to more practical solutions for real-life problems. She Is a change agent and believes that the students can change anything.
Achievements
Social media profiles
Facebook:
https://m.facebook.com/poojitha.reddy.92351995?ref=bookmarks
Instagram:
https://www.instagram.com/poojithaa__reddy/
Twitter:
https://twitter.com/Poojithaa_reddy
LinkedIn:
https://www.linkedin.com/in/poojitha-reddy-k-898b711a9/
Snapchat:
https://www.snapchat.com/add/poojithaa_reddy
Institute wiki: [Madanapalle Institute of Technology & Science]

---
---