Fellow:Pavithra Dinnemeeda
Jump to navigation
Jump to search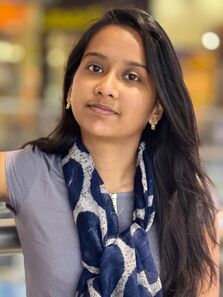 Name

Pavithra Dinnemeeda

School (Cohort)

Madanapalle Institute of Technology and Science (2022 cohort)

Majoring in

Computer Science and Engineering(CSE)

Country

India

Email
Bio
Pavithra is currently pursuing her under graduation at Madanapalle Institute of Technology & Science in the stream of Computer Science and Engineering. she hails from the town of Madanapalle. she was an extrovert and a positive person. she have been a volunteer on her school's annual day. During her schooling ,she participated in so many programs in her school, like Ugadi events and Sankranti events. Her hobbies are Cooking, Art, Quilling, and Badminton. she was good at creating new things.
She is very enthusiastic to learn new things from friends and family. She is highly motivated , hardworking and intelligent. She is good at drawing and academics. Being an extrovert, she can mingle with people very easily. She always finishes her work in time with perfect time management skills. she is not only responsible but also passionate about her work. Justifying her leadership skills she occupies an important position in the class . Pavithra is very friendly, kindhearted and develops good friends. She is honest, sincerely committed to her work and energetically completes the given tasks. She has always been passionate towards technical competitions and many other extracurricular activities showcasing her organizing, management skills. Further she is extremely articulate in speech and expression and bears a good persuasive and mature personality.
Pavithra believes that Personality development skills are very important to achieve personal and career goals. She believes in "Never stop learning" motto. Her short-term goal is to get a good job in MNCs. Her biggest dream was "Financial Independence". she wants to make a stand, and to get a different identity in the society by reaching out to the needy.
Achievements
She got certificate for Bhagavad Gita.
she stood school first in board exam and she got 5k prize money.
She was appointed as class monitor from 6th class.
Social media profiles
Facebook:https://www.facebook.com/profile.php?id=100079618256964
Twitter:https://twitter.com/Pavithrad2003?t=ofJ4LbJ3V6j-P29E3EJUvw&s=08
LinkedIn:https://www.linkedin.com/in/pavithra-d-5b1348236
Snapchat:https://www.snapchat.com/add/pavithrad9400?share_id=C-Yb416Iruo&locale=en-US
Instagram:https://www.instagram.com/invites/contact/?i=11yvhnr50e26k&utm_content=o9iz3t5
---
---