Fellow:Patricia Ho
Jump to navigation
Jump to search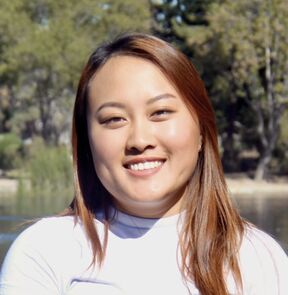 Patricia Ho is a multidisciplinary designer who became a UIF Fellow in Fall 2017 with Yumi Liang and Chalisa Phiboolsook and attended the Fall 2017 Silicon Valley Meetup. She specializes in visual design, user experience (UX) design, user interface (UI) design, user research (UXR), and usability testing. As a graphic designer by training, Patricia has experience creating accessible design materials for students with disabilities and has worked as a graphic design intern in an information technology company, a consumer technology company, and an artificial intelligence (AI) and human translation startup.
Patricia earned her Bachelors in Fine Arts degree (BFA) in Graphic & Interactive Design at the California State University, Fullerton (CSUF) and is currently pursuing her master's degree at the University of Washington's Human Centered Design and Engineering (HCDE) program. Conjointly with her undergraduate degree, she earned a User Experience (UX) Design Certificate from the UC San Diego Extension.
Apart from being a college student, Patricia actively participates in design communities, designathons, and volunteer opportunities to use design and design research to create impactful, user-centric solutions. Currently, she is a Design Coach with Design the Future, a Product Design team member at Design Buddies, a UX/Beta Testing team member at the American Youth Literacy Foundation (AYLF), and a UX/UI committee member at the Innovation Center for Design Excellence (ICDE).
Early Life
From a young age, Patricia had a strong interest in creative projects and roles. Her high school art classes and experience as her yearbook committee's lead designer & editor influenced her decision to explore more artistic endeavors, such as painting a permanent mural for her high school and designing an art piece for the San Jose International Airport.
During the summer of her junior year in high school, Patricia was selected into the California State Summer School of the Arts (CSSSA) program at the California Institute of the Arts (CalArts). After the program, she became a CSSSA Scholar and used her knowledge in art principles and digital media softwares to pursue a career in art and design.
Education
Undergrad Years
As an undergraduate student, Patricia worked as a Marketing Student Assistant for her school's disability support services department and designed ADA and WCAG compliant marketing materials. She created her department's guide on creating accessible marketing materials for accessible technologies and trained staff and faculty in creating accessible PDF documents. Inspired by her student job experience, Patricia pursued independent research study under her graphic design professor on how to create accessible visual designs in the digital space. This study included accessible color contrasts, typography and UI elements, and resources on how to check for accessible designs.
Patricia served multiple positions on her university's Arts Interclub Council (AICC), a council that provides funding and resources for over 20+ student organizations within the CSUF College of the Arts. During her sophomore year, Patricia was an Arts Week Events Coordinator and helped curate events and activities for the annual Arts Week, a week-long event to celebrate all art-related fields and disciplines. During her junior year, she was elected as the Vice Chair/Financial Officer and managed all the budgeting and transactions for student organizations. During her senior year, she was elected as Chair of the council and conducted meetings using Robert's Rules, represented her council at ASI Board of Director meetings, and advocated for the budget increases to support the council's student organizations' events and activities.
UIF Fellow 2017 and Student Innovation Collective (SINC)
As a University Innovative Fellow in 2017, Patricia worked closely with Yumi and Chalisa to revitalize Student Innovation Collective (SINC), a club created by previous UIF Fellows. As their UIF project, Patricia, Yumi and Chalisa focused on recruiting students interested in tackling social challenges through design innovation and equipping them with design thinking skills, resources, and projects. They organized design thinking workshops, activities (referenced from UIF stokes), and field trips to learn more about user-centric innovation and problem-solving. Patricia was SINC's Creative Director and was responsible for creative marketing materials, workshop materials, and brainstorming creative club activities and events.
Inspired by the UIF training and Meetup, Patricia, Yumi, and Chalisa worked with SINC officers to create and implement a design thinking competition in Fall 2017 and a design thinking conference in Spring 2017. In Fall 2017, SINC partnered with Push Humanity Forward, a non-profit humanitarian group, to create organize a design thinking competition focused on helping the homeless population in Anaheim, CA. Prior to the contest dates, Patricia participated in on-site interviews at homeless sites and design critiques to support teams as they built their projects. The design thinking competition resulted in the winning team receiving $10,000 to implement their solution to helping the homeless and was featured in a The Orange County Register article.
In Spring 2017, Patricia participated in raising money and organizing a design thinking conference called SINCing Out Loud in Irvine, CA. The conference was inspired by the UIF Silicon Valley Meetup and was free and open-to-all students, faculty, and the public. SINCing Out Loud contained design thinking workshops and activities that encouraged group collaboration and guest speakers to inspire the attendees. This event culminated all the knowledge and lessons learned from UIF and SINC, allowing Patricia's cohort to share their UIF experiences and learnings to the public.
Personal Life
Patricia loves to run, ski, explore new places, and spend time with her labradoodle. She enjoys TV shows on Netflix such as Stranger Things and Community and loves watching movies (especially popular franchises such as Marvel and Star Wars). She enjoys music and curating playlists that go with certain moods or days.

Related Links
California State University of Fullerton
California State University of Fullerton Student Priorities
Patricia_Ho
---
---