School:California State University of Fullerton
Jump to navigation
Jump to search
CaliforniaState Universityof Fullerton
Overview
Located in one of the most vibrant and entrepreneurial business communities in the United States, the College of Business and Economics (Mihaylo) at California State University Fullerton, is the largest accredited business school on the West Coast. Mihaylo provides a world-class business education, offering graduate and undergraduate programs that integrate classroom education with best business practices, technology, and real-world experience. Furthermore, the University of Fullerton aspires to combine the best qualities of teaching and research to actively engage students, faculty, and staff to work in close collaboration to expand knowledge.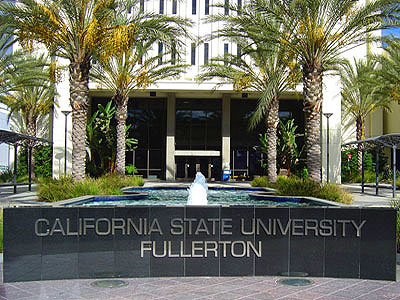 Student Innovation and Entrepreneurship
With the goal of pushing forward humanity, the University is a great supporter of innovation and entrepreneurship amongst students.
Center For Innovation
The University recently acquired the center for innovation, which is an incubator that houses innovative start-ups with scalable business concepts. The recently acquired incubator is meant to be an extension of what is done in the classroom. The start-ups housed in the incubator will be supported with mentors and coaches to help them throughout their journey. The goal of the incubator is to accelerate the commercialization of startups. In addition to the incubator, the University hosts numerous competitions in which students get the opportunity to pitch their business ideas in front of investors.
Additionally, an Innovation/Makerspace Center has been created in the library to allow all students to utilize their innovation and creativity through technology. This technology includes 3D printing, virtual reality, and augmented reality. Sophisticated software such as Microsoft Surface Hub, Rasberry Pi, and high-end computing is also made available to all students. Previous experiments include mapping out the entire CSUF campus on virtual reality when discussing potential infrastructure changes.
Image: CSUF Makerspace
Competitions/Organizations
In support of innovation and entrepreneurship, the University hosts two competitions that aim at promoting entrepreneurship amongst students. The Business Plan Competition and the Titan Fast Pitch competition gives students the opportunity to pitch their ideas in front of investors. In addition, the  University currently has two impactful entrepreneurship organizations in which innovation and entrepreneurship are highly valued. One is the Entrepreneurship Society, and the second is a newly established business fraternity Sigma Upsilon Mu. Both organizations aim at promoting entrepreneurship amongst students.
Student Innovation Collective (SINC) is also currently playing a crucial role within the campus as a whole and expands upon the business school by being the first cross-campus, interdisciplinary organization on campus that focuses on entrepreneurship and innovation. The organization's involvement has pushed these two concepts to tbe integrated across departments (business, engineering, art, etc).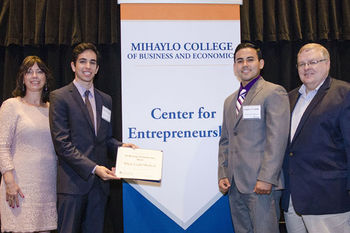 Faculty Innovation and Entrepreneurship
CSUF Faculty members are great supporters of innovation and student entrepreneurs. The center for entrepreneurship at the University provides students with the resources necessary to launch their businesses. In addition, the center for entrepreneurship frequently invites speakers from all industries to talk to students about the common problems most startups face. From intellectual property to funding, the center equips students to be well prepared as they go about their professional journey.
University Industry and Collaboration
The Small Business Institute at the University is hosted by the Mihaylo College of Business and Economics and is managed by the College's Center for Entrepreneurship. The purpose of the Small Business Institute is to strengthen the small business sector of Orange County's free enterprise system through increasing the effectiveness and impact of small business teaching, consultation, and research at the University. The students are MBA students or graduating seniors majoring in business. The students form consulting teams and work like apprentices, closely supervised by a select group of experienced faculty experts.
Regional and Local Economics Efforts
As mentioned above, the University recently acquired the center for innovation which is an incubator designed to accelerate start-ups. The center for entrepreneurship successfully partnered up  with the city of Placentia to make the center for innovation available not only to CSUF students, but to local entrepreneurs as well. 
Furthermore, the center for Economics and Small Business Institute at CSUF host a program called the Olympiad. The Olympiad is similar in nature to a business plan competition but with a younger audience. The goal of this event is promote financial literacy amongst high school students.
National Startup League
Furthermore, the center for economics recently partnered up with the National Startup League, a not for profit organization that equips individuals, of all levels, with the robust skillset required to be a successful and problem-solving entrepreneur. Starting in High School and University classrooms, the National StartUp League uses a high impact STEM based curriculum to challenge students to reframe their worldview, as solution oriented critical thinkers, and problem solvers.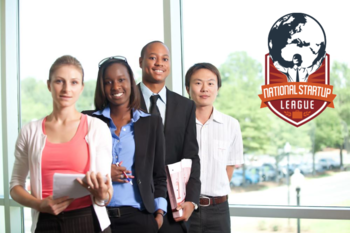 Engineering Innovation
The Department of Engineering has partnered with Johns Hopkins University to teach high school students to become problem solvers like engineers. This program challenges students to apply their knowledge and learning to projects.
Graduation Initiative 2025 and Innovation Grants
Developed in fall 2013, Graduation Initiative 2025 was made to propose ideas to increase retention and graduation rates at CSUF. This initiative called for close collaboration across the divisions of Academic Affairs, Student Affairs, Information Technology, Administration and Finance, University Advancement, and Human Resources, Diversity and Inclusion. This infrastructure has already resulted in great strides in advising, enrollment management and student services meant to eliminate obstacles, close the achievement gap and ensure timely graduation for all students.
Innovation Grants were awarded to Faculty with projects aimed at increasing retention, increasing graduation rates, and decreasing achievement gaps. Faculty members were given grants in Spring 2017 to embark their projects to achieve higher student success. A few projects include Katherine Powers' "Joining Pipeline Stages: ProActive Advising for Success" and Patricia Literte's "Titan Scholars Project."
Related Links
California State University of Fullerton
California State University of Fullerton Student Priorities
Lorenzo Santos Steven Debolt</div>
---
---