Fellow:Navya Sri Kalli
Jump to navigation
Jump to search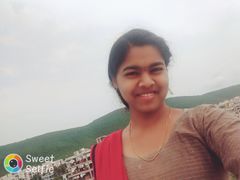 Navya Sri Kalli is an University Innovation Fellow and an Undergraduate student studying Bachelors of Technology  in Computer Science Stream at Vasireddy Venkatadri Institute of Technology. Navya is originally from Guntur, Andhra Pradesh and is doing her Graduation from the same place. She is initially from a rural background but now her family has got into the business field. Her passion for computers made her choose this career path and VVIT is the place where she got to know about the University Innovation Fellows(UIF). She had the opportunity of getting very good exposure from the campus, not only UIF but also many other communities and organizations.
In her college she is a member in Student welfare Council of Student Activity Council. In addition to that, she is also a representative of her college E-Club where various Entrepreneurial activities will be going on in. She is also working on her start-up from the same club. She is a Toastmaster and had been part of an NGO called Make a Difference for a year where she worked as an Ed Support Volunteer. All this gave her many insights are worked as steps of evolution.
From the day her science project was given an A grade by the Central Government of her country in a science fair held at Benaras Hindu University in the year 2014 she started loving the exposure and empathizing. This still persists in her and along with her other interests like traveling, talking to people and learning new things. She is planning to pursue her Masters after her Graduation. In her campus, she is interested in improving the thinking pattern of students by making them apply the Design Thinking Methodology for solving Problems they face in their day to day life.
---
---