Fellow:Meredith Filter
Jump to navigation
Jump to search
Meredith is a sophomore studying Special Education and Comprehensive Science and Arts for Teaching at Grand Valley State University in Allendale, Michigan. She is also in the Fredrick Meijer Honors College. Her hometown is in beautiful Ludington, Michigan along the shores of Lake Michigan. Here, you can find her working, swimming, and watching sunsets.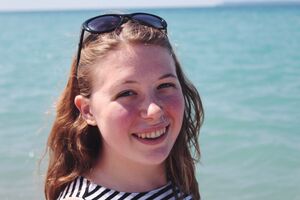 At Grand Valley, Meredith is the Co-Fundraising Chair for Grand Valley's student chapter of Council for Exceptional Children, a pre-professional group that brings top-level educators to campus. As the Co-Fundraising Chair, Meredith spearheads many important fundraising activities. She is also involved in Campus Ministry, serving on the Serve Global Team where she plans events to raise money for global non-profits. This included bringing Key of Hope Children's Choir from Durban, South Africa to preform at Grand Valley. Meredith works at the Art Galleries on campus as well, which allows her to connect art to her current studies. This May, Meredith will be spending a month in Tanzania, teaching, going on safaris, and learning about Tanzanian culture. She is excited to learn more about pedagogy and anthropology through this exciting adventure. 
Wonderful opportunities have been presented to Meredith that have helped contribute to who she is now. These opportunities included being a part of the First Annual LeaderShape Institute at Grand Valley, serving on a mission trip in San Diego, California, and exploring the relationship between foster care and food through Design Thinking.
Meredith hopes to bring more awareness and action to the current issues facing education. One of her biggest passions is equal access and cultural competence in the classroom. Meredith plans on working in urban school districts after she graduates from Grand Valley.
Related Links

To find out more about Grand Valley State University and current projects, here are some helpful links:
To learn more about other GVSU Fellows:
---
---