This site will go under maintenance from 25-11-2020 to 30-11-2020. It might not reachable during the maintenance period.
Fellow:Haley Jennings
Jump to navigation
Jump to search
Haley Jennings
UIF 2018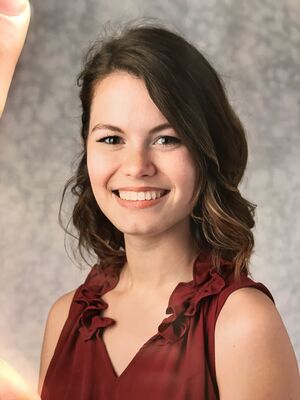 Haley, sometimes called Hals, is majoring in Weirdness with a minor in Sarcasm. As a double major in Entrepreneurship and Marketing with a background in the arts, she often finds herself pulled between many different interests. Haley is a self-proclaimed Enneagram Type Three, "The Achiever," and a queen of dabbling. She'll frequently acts spontaneously to gain a new experience or make someone laugh. This has led to: an adopted shelter dog, spontaneous trips to distant cities, a second major, an 80s conversion van (named Vandalf), the disappearance of her hair, songwriting about owls, and many sleepless nights. She's seen The Lord of the Rings trilogy over twelve times. Her Pinterest is populated by pictures of puppies, standup comedy jokes, and Marvel fan art. She will strongly defend her use of an oxford comma in the previous sentence.
Relevant Links:
2017-2018
Grand Valley:
http://universityinnovation.org/wiki/Grand_Valley_State_University<img src="/images/1/1d/IMG_2973.jpeg" _fck_mw_filename="IMG 2973.jpeg" alt="" />
---
---