Fellow:Manvitha BL
Jump to navigation
Jump to search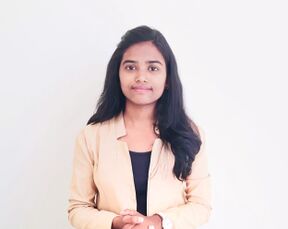 Name

B L Manvitha

School (Cohort)

Madanapalle Institute of Technology and Science (2021 cohort)

Majoring in

Computer Science and Engineering (CSE)

Country

India

Email
Bio
BL.Manvitha is currently pursuing her under graduation in Madanapalle Institute of Technology & Science, in the stream of Computer Science and Engineering. She was born and brought up in Madanapalle. She is a go-getter and very passionate to serve people. She is courteous and committed to the work.
She is very good at academics, always focuses on the concepts and then learn. She even helps her peers and juniors in their conceptual understanding. She is good at programming and got certifications in python. Her communication skills and clarity in expression keep her outstanding. She is courageous and possesses great leadership qualities for which she was appointed as class monitor consecutively from her childhood. For those sterling qualities she is even awarded as the Best Class Monitor.
Manvitha is a classical singer specialized in Carnatic vocals and plays piano very well. She has participated in a few concerts, and also received certifications in music. She loves to do creative things and always tries to build something new and unique. "Only a peaceful mind can create wonders" to uphold mental peace, she practices yoga and meditation regularly. She believes in "Live to Inspire not to Impress" ,and tries to keep up her uniqueness. She is open minded and mingles with different cultured people easily. She is very passionate about bringing change in society and volunteers her service to orphanages. She is kind and gives concerts to help the welfare organisations in need. Her goal is to be an entrepreneur and innovate something new that is useful to people.
Strategic priority

Manvitha is currently working on a project named " MITS LUMINARIES " to improve her campus ecosystem. It is all about showcasing the Success stories and struggles of Achievers to inspire the students. Many of their achievements are not properly pooled and documented. The students' community is unaware of their success stories.So we wanted to create a platform to bring out their  innate capabilities and contributions to the limelight. Public recognition and sense of achievement always boosts up one's morale and the same motivates others to stay focussed. Youth craves for Campus Identity and this positive identity brings real world achievement into the reel world in the most interesting way by interviewing and recording them ; uploading the videos on social media platforms like instagram and youtube is our Project. These crisp, clear, creative and interesting short videos attract the youth. The impact will have a ripple effect and the synergy transforms into innovations.  
Achievements
She served as class monitor for 7 years continuously and has been awarded as the Best Class Monitor.
She stood school first in board and entrance exams and her success was also published in newspapers.
Social media profiles
Twitter : https://twitter.com/ManvithaBl
Facebook : https://www.facebook.com/manvitha.bl/
Instagram : https://www.instagram.com/manvitha_bl/
LinkedIn : https://www.linkedin.com/in/manvitha-bl-5b657a203/
---
---