Fellow:Mélanie Droogleever Fortuyn
Jump to navigation
Jump to search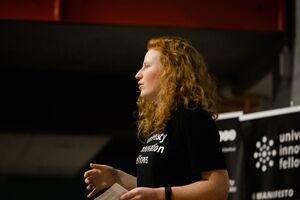 Mélanie Droogleever Fortuyn is an undergraduate student at the University of Twente in the Netherlands. She is studying ATLAS (Technology, Liberal Arts, and Sciences). The program thrives off an interdisciplinary mindset, with project based learning that works on making innovative technology practical for current society.
Mélanie was born in Illinois, however has spent her entire life as an expat. She has lived in Germany, Russia, England and she is currently residing in the Netherlands for her bachelor's degree. She has four nationalities, thanks to her international parents, including Canadian, American, Swiss and Dutch. This multicultural upbringing has provided her with a passion for travel and a very international outlook on the world. This drove her interest in engineering solutions for sustainable development around the world.
In the summer of 2017, Mélanie led a team of ATLAS students through a project to make the transport system in the city of Curitiba in Brazil more sustainable. She applied her design thinking knowledge from the UIF training to this project, and the team ended up travelling to Brazil over the summer to complete the research. This research included interviewing stakeholders such as government officials and organisations such as Volvo, mapping the infrastructure and stakeholder interactions, and finally hosting a stakeholder meeting so that they could exchange opinions and determine solutions to make Curitiba's transport more sustainable.
This project helped Mélanie leapfrog into the field of smart cities and sustainable development, as she later completed projects on dometic biogas implementation in Indonesia and reducing air pollution in the Randstaad region of the Netherlands.
For Mélanie's final year of her bachelor's she followed civil and environmental engineering courses during her study abroad at the University of Michigan, and then completed her bachelor's thesis as a visiting student in MIT's Senseable City Lab on the topic of waste collection with autonomous boats in the canals of Amsterdam.
In September 2019, Mélanie began her 2 year Master's in Environmental Sciences and Engineering at the École Polytechnique Fédérale de Lausanne in Switzerland.
Mélanie has also been a very active member of her UIF team for the 3 years of her bachelor's. Mélanie helped launch the cross-cohort UTwente UIF team, and chaired this team for a whole year, through the highs of the Keeping Talent in Twente project and the very first European Meetup (for more details, see universityinnovationfellows.nl). During her final year abroad, she could not distance herself from the team, skyping into weekly team meetings, launching a new project on campus and being a day leader for two days of the 2nd ever European Meetup.
Related Links
University Website
Wiki pages
University of Twente Student Priorities
University Innovation Fellows
Fall 2016
Spring 2017
Mélanie_Droogleever_Fortuyn
Fall 2017
Spring 2018
2019
---
---