Fellow:Lisa Veldman
Jump to navigation
Jump to search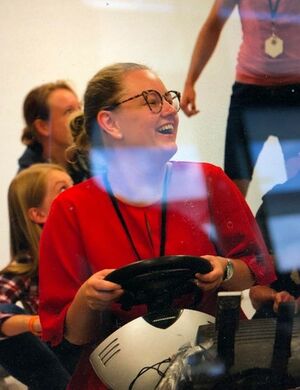 Lisa Veldman is a University Innovation Fellow at the University of Twente in Enschede in the Netherlands. She is a second year Technical Liberal Arts & Sciences (ATLAS) student at the University of Twente. Besides studying, she likes to improve her and her surroundings further via doing extracurricular activities, such as being a student representative in the University Council. 
Helping others is Lisa familiar with. This resulted from being the oldest child in the family, therefore always willing and needing to take others into account at family gatherings. Later, this became evident when she volunteered to organize activities for children ranging all ages. 
Additionally, Lisa learned that by dreaming and working hard, you can get the most out of your situation. It is cliché, but true... Currently, she is still dreaming about exploring the world and living abroad. She is specifically keen on the city that never sleeps, New York City. 
That admiration could stem from her never seeming to sleep. Raised with the believe that you need to work hard for what you want, she never stops. She does multiple jobs and activities at the same time, since the age of fourteen. Lisa grew personally, but also her ability to understand and deal with different perspectives and the world. 
All in all, Lisa is a well-rounded person that works hard for what she wants and believes in, while keeping her head cool. Someone that thrives on challenges and won't stop because of hurdles on her road.
Related links
---
---