Fellow:Lennart Van De Velde
Jump to navigation
Jump to search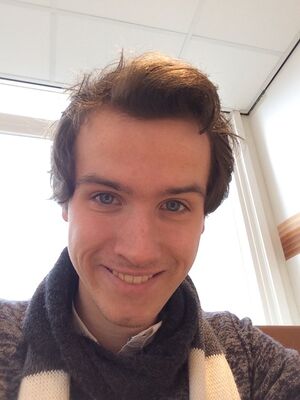 Lennart is a grad student in Technical Medicine at the University of Twente, the Netherlands. What he loves about the program is the focus on bringing innovation to healthcare, a field that has traditionally been slow in adopting new technologies. With internships at Medtronic and hospitals like the Academic Medical Center in Amsterdam, Lennart experienced the motivational power of a shared mission and the value of inspiring colleagues. He is able to quickly find his way in diverse settings by his motivated attitude and active engagement, which helped him set out new research directions for Medtronic's Integrated Health Solutions. Currently, Lennart is graduating on a research project in collaboration with the University of Twente, Rijnstate hospital Arnhem and the Institute for Biomedical Technology at Ghent University. By combining expertise from these institutes, he aims to improve endovascular treatment of occluded arteries through computational fluid dynamics modeling. 
For the University of Twente, Lennart actively contributed to his educational program as teaching assistent in math, medical and physics courses. Invited by the professors, he led practical sessions, assisted in seminars and functioned as tutor in group projects. For the student surf association, he functioned as member of the board and several committees to enhance campus facilities. Starting from these experiences, he hopes to exchange ideas on meaningful education through the UIF program and learn from others on how to promote and stimulate entrepreneurship on campus.
Born and raised in Alkmaar (NL), healthcare tech captured Lennart's interest at a young age. Growing up, he also enjoyed spending time on the piano or out in the open when kitesurfing. In 2015, his affinity with the piano led him to obtain a Bachelor of Arts degree in piano performance. He believes that improvising and group sessions in music can enhance creative thinking. Lennart is interested in bringing technical and medical disciplines together, both on campus and in hospitals, to ultimately speed up innovation in healthcare.
Related Links
University Website
Wiki pages
University of Twente Student Priorities
University Innovation Fellows
Fall 2016
Spring 2017
Lennart_van_de_Velde
---
---