Fellow:Hima Siri Kadepalli
Jump to navigation
Jump to search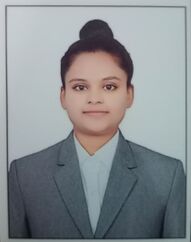 Name

Hima Siri Kadepalli

School (Cohort)

Madanapalle Institute of Technology and Science (2021 cohort)

Majoring in

Computer Science and Engineering (CSE)

Country

India

Email
Bio
Hima Siri Kadepalli is currently pursuing as an undergraduate senior in the stream of Computer Science & Engineering at Madanapalle Institute of Technology & Science, Madanapalle, India. She is a native of Madanapalle, Andhra Pradesh. She is a highly energetic and active person.
She is capable of initiating, organizing things, and being a helping hand in the team's victory. She has good leadership qualities, and she can contribute to teamwork. She worked as a Vice President and currently working as an Event Organizer in the Student Activity Center at MITS. Her way of showing attention to detail, enthusiasm, and willingness to learn defines her perfection.
She is concerned about society and has also been a part of the NCC (NATIONAL CADET CORPS). "Service to Humanity is to Service to God" She contributed her best to society with commitment. Simultaneously, she developed time management skills. As an NCC Cadet, her leadership qualities and skills are groomed. In addition to that she was a karate practitioner. Dancing, reading, and writing are her most common cherished hobbies, while photography, drawing, and making creative- greeting cards are her favorite pastimes activities. She likes to watch documentaries and research the fields of her interest. She is an avid reader of books and develops a few quotes from the lessons she had learned.
One of her drawings representing the Indian Army achieved accolades from the press. Her goal is to start a foundation ,provide accommodation and free education to the poor and needy. Her aim is to have her own IT-company. She is ambitious about writing a book "Anamika - an unknown to well known", a book about the life story of a poor girl achieving great things. Her dedication to work and open-mindedness specify her uniquely .
Achievements
She completed her B-CERTIFICATION In NCC.
Social media profiles
LinkedIn : https://www.linkedin.com/in/hima-siri-ba6047195
Facebook : https://www.facebook.com/himasiri.vijayakumar
Instagram : https://www.instagram.com/invites/contact/?i=16vk5b95615c6&utm_content=9vousqi
Twitter : https://twitter.com/hima_siri?s=08
---
---