Fellow:Emilija Banytė
Jump to navigation
Jump to search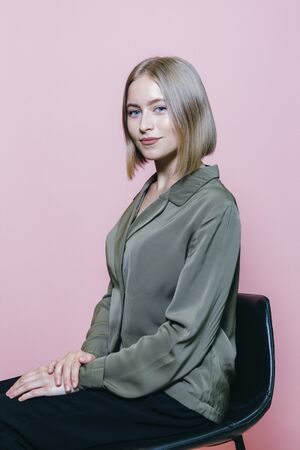 Name

Emilija Banytė

School (Cohort)

University of Twente (2021 cohort)

Majoring in

Communication Science

Country

The Netherlands

Email
Bio
School: University of Twente (UT)
Cohort: 2021
Interests: communication, marketing, startups, entrepreneurship, event organisation
Email: e.banyte@student.utwente.nl or EmilijaBany@gmail.com

Emilija Banytė is a third-year Communication Science student at the University of Twente (class of 2022) and an aspiring communication & marketing expert. Her roots lie in Lithuania, but her passion for travelling led her to live in Brazil, Vietnam and currently in the Netherlands. During the second year of university, she worked as a Brand Director for the student-run venture capital (VC) fund, the Dutch Student Investment Fund (DSIF). Emilija believes in a more diverse and inclusive Dutch startup ecosystem that is why her goal was to transform DSIFs marketing strategy into gender-neutral. Also, she organised the "Domino Effect of Diversity and Inclusion in Entrepreneurial Growth" event to raise awareness about the benefits of the diverse startup teams. Apart from that, she was representing DSIF in the VC movement for diversity, Fundright.
From an early age, Emilija was a curious and ambitious person, interested in leadership, communication and event organisation. Her philosophy is that the root of life fullness lies in understanding each other and in lifting each other up. For this reason, she volunteered in the Vietnamese Buddhist orphanage, district court of Mazeikiai region, kindergarten and animal shelter. In her home city, she was a president of a philanthropic organisation, Interact club (Rotary), where she had an opportunity to organise charity events for the ones who need it the most. That led her to have diverse experiences, such as joining Mazeikiai district municipality council of youth affairs to deal with the fundamental youth policy problems. Besides that, she gave lectures to the school students about international mobility opportunities as the representative of the Eurodesk organisation ("Žinau viską").
Emilija's professional passion is communication and marketing. Alongside her studies, Emilija had several marketing and communication internships in a startup Kobe, communication agency New! Creative Agency and currently at the Ogilvy Social.Lab Amsterdam. Internships and university have taught her a great deal about the communication & marketing industry. From corporate communications to social media marketing, from strategy creations to project management.
Besides all the formalities, Emilija enjoys photography, backpacking and meditation. She likes to capture moments with her camera and listen to people's life stories. Nature is her comfort zone, where she finds peace and joy.
Emilija is always open to connect and collaborate on projects. Please feel free to contact her anytime!
Achievements
2015-2016 President of Mazeikiai Interact Club (Rotary)
2017-2018 Member of the Mazeikiai District Municipality Council of Youth Affairs
2017 Main organiser/ambassador of the European Youth Week +Idea Event in Mazeikiai city
2020-2021 The Dutch Student Investment Fund's representative at FundRight
Social media profiles
---
---