Fellow:Dustin
Jump to navigation
Jump to search
Dustin Hochmuth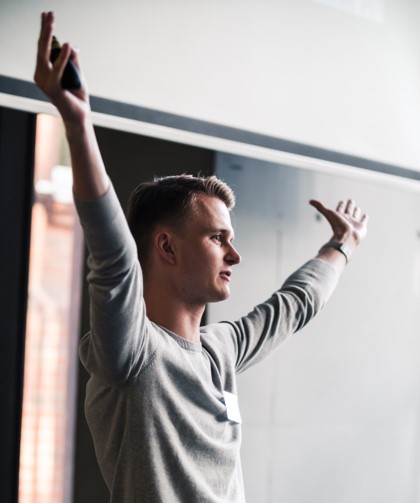 Dustin is part of 2018th University Innovation Fellow Cohort and studies International Managemenrt and Engineering at Hamburgs University of Technology. Together with his team he was in the first leadership circle of the campus. His focus lies heavily on entrepreneurship and product development. He aquired his bachelors degree at the Ostfalia University for applied sciences in Wolfenbüttel and in this he also went abroad for one semester to study at the San Jose State University in California. He was also part of 2019th Silicon Valley Meetup and had fun in the justice league bus (the best one!). 
In his free time, Dustin enjoys running and soccer as an active counterpart to his studies but also likes to read a lot. He will also be found working on private projects with other peers that share an entrpereneurial mindset, or they just hang out being unproductive but funny. He did work at Lufthansa Technik for 2 years (one year part time beside the master studies) and went on to look for a more entrepreneurial opportunity. Overall, Dustin is a humerous guy that loves to ideate with others and enjoys working on a true challenge. 
What drives him is empathy. The development of any product or service that is based on the needs of others is not only succesful in his eyes, but it also serves a purpose! This is why he stuck with the UIF Movement and why he will continue to support it. He currently works on his master thesis in which he is developing a method to implement a frugal mindset. 
Dustin was also co-organizing the "funkenflug" or "flying sparks" event at his university - A two and a half day design thinking event in which diverse members of the university tackled multiple challenges on campus. You can check out the aftermovie here:
 https://www.youtube.com/watch?v=b5JirorFf9U
Also - you want to know how cool UIF is? Check the right picture! It is thaaat much fun to be part of it!
From him to his Teammates: "Thanks a lot for the great work on our project!" His team consited of:
Related links
Hamburg_University_of_Technology
Hamburg_University_of_Technology_Student_Priorities
---
---