Fellow:David Pollhammer
Jump to navigation
Jump to search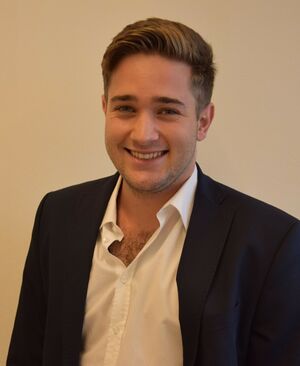 David Pollhammer
is a University Innovation Fellow who is currently studying
Multi Media Art
in the Bachelor's program at the Salzburg University of Applied Sciences (FH Salzburg). His main subject area is Media Design with a personal focus on Motion Graphics and Concept Development.
After graduating high school, he felt the intrinsic need to broaden his horizon and see the world. So he spent half a year traveling through Asia and doing voluntary work. Later on this desire recurred and he went on a semester abroad in Mexico. He is assured, that those journey had a great impact on his work, designs and even his character.
David is a very visual person, alway paying attention to the aesthetic of things, which led him to his fields of study. At first though, he studied Art History at the Salzburg University, but realized early on, that he wanted to create something himself, which was the reason he changed to Multi Media Art at the SUAS after two semesters.
Additionally, he has a burning passion for movies, even visiting film festivals in Europe. So who knows, he might even put a focus on film making in his future career.
---
---