Fellow:David Goedicke
Jump to navigation
Jump to search
David Goedicke is a University Innovation Fellow. His stories begin around 10 years ago at time when suddenly orienting for the live after high school becomes a serious issue. He sourced his motivation, inspiration and English skills from watching a substantial amount of TED talks.
The first major job he took on was his social service as janitor in a retirement home. This position had a severe impact on how he values different work positions. Understanding the implications of physical labour and demands and stresses as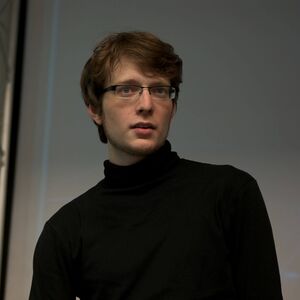 sociated with such a job had a substantial effect on David.

David's first study directions was oriented towards music and media composition. This plan did not come to fruition as his hearing skills where not up to the task. However, the experience of a such high level of rejection helped him to shape his character towards attempting new ideas to achieve a goal and how to deal with failures.

As a practical alternative to professional music study David started the Creative Technology Bachelor program at the University of Twente, Enschede, in 2011 which he finished in 2014 with an honorary degree.

Since 2014 David is involved in the DesignLab at the UTwente to help facilitate new education technics, rapid prototyping and in general society centric science and development.

His past experience has left David with an effective, meaningful and ethically driven focus to advance an inclusive society for humans with technology. Currently the focus is on human friendly robotics as part of his Human Media Interaction Master program studies.

Feel free to contact him
https://twitter.com/davidgoedicke
https://www.facebook.com/david.goedicke
Related Links
University of Twente Student Priorities
University Innovation Fellows
Fall 2016
---
---