Fellow:David Erler
Jump to navigation
Jump to search
Quick Info
Cohort: Fall 2020
School: Hamburg University of Technology (TUHH), Germany
Contact him about: Sales & Marketing, Cold Calling, Renewable Energies, Innovation Ecosystem, Entrepreneurial Mindset
E-Mail: david.erler@tuhh.de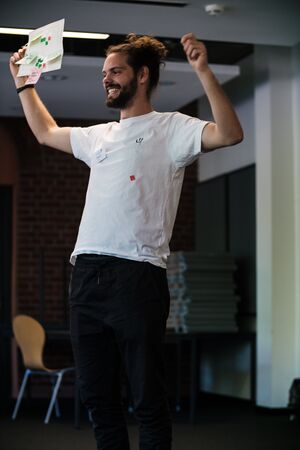 Name

David Erler

School (Cohort)

Hamburg University of Technology (2020 cohort)

Majoring in

International Management & Engineering

Country

Germany

Email
About David
David Erler, sometimes referred to as Davy or Davy Jones by his friends, is a 26 year old student from Hamburg, Germany. He's currently in his second year of the M.Sc. International Management & Engineering program at Hamburg University of Technology (TUHH). David also obtained his B.Sc. degree in Energy & Environmental Engineering at TUHH. Throughout his student career, he's spent semesters at Universidad EAFIT in Medellín, Colombia and Tokyo Institute of Technology in Japan. Professionally, he is employed as a Junior Consultant and Sales Manager at Hamburg-based IT consultancy C4 Group.
Considering global energy transition and digitalization to be some of the greatest challenges of his generation, David wishes to make an impact by facilitating sustainable innovation via digital innovation ecosystems. This is why he technologically specializes in renewable energies. Business-wise, David is curious about ways to let customers actively partcipate in shaping a company's value proposition. Consequently, he likes to engage in Sales, Marketing and Innovation Management activities embracing concepts, such as Design Thinking, Lean Startup and Lead User Method. So, whenever you need help about Sales & Marketing strategies or approaches for cold calling, feel free to reach out to David. He's also open to chit-chats about renewables energies and digitalization at any time.
Networking and bringing people of different backgrounds together has always been of great interest for David. Ever since being a kid, he's liked to be in good company and to help people. This early led to his belief that a group of people can achieve more than a single person. When playing Pokémon on his GameBoy Color at a young age, he considered catching all Pokémon as more of a success than simply skilling one to be successful. As a consequence, David quickly developed a high sense of responsibility for society. So, still being in school, he started to engage in voluntary work, e.g. for the International Seamen's Club Hamburg, the Lycée Français de Hambourg, or IAESTE Hamburg.
Mentors and friends have perceived David as a friendly, proactive and open-minded type of guy. Furthermore, they have valued his quick grasp and his well-founded expertise both in Management and Energy Engineering. Nonetheless, he remains curious and greedy for knowledge. David loves to play soccer and doing water sports, such as wakeboarding or surfing. Also, he has a passion for traveling, techno music and Japanese cuisine. In his spare time, he spends hours on DIY projects. All in all, David is an optimistic changermaker with a firm belief in the good of people. He is an allrounder who is easily thrilled by a lot of different things.
Is there anything you want to talk about with David? Shoot him a message on whatever channel you like. He'll happily get back to you asap.
UIF x TUHH 20/21
At the moment, David is in charge of finding funding partners for this year's UIF cohort at TUHH. Therefore, he's building relationships within the university network and started ideation for PR & Marketing.
Social Media
---
---