Fellow:Cristian Sanchez
Jump to navigation
Jump to search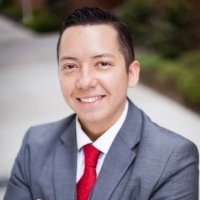 Cristian is a University Innovation Fellow from the Spring 2015 cohort,
He is currently going to Cal State Fullerton working on completing his BS in Business Administration
with a concentration in Entrepreneurship. As a struggling student in his first semester he was juggling two jobs and night school. Cristian wanted more of a "The College Experience" and felt like he was missing it having to work during the day and go to school at night. So he decided to create a way were he would only work weekends win just as much as he would working a regular job. For a couple of months he had been bartending for private events but just as a hobby. This is were he was stuck by lighting and decided to go forward and develop a Freelance Bartending Service. This opportunity would help him be his own boss, book events when suited him, and win more in one day that most do in a week. This is when he created "Mix2cris" Once in "the College life," Cristian Has been collaborating with many of the Business Clubs to enrich his experience. By selflessly volunteering in good faith he was honorably been elected to be The Entrepreneurship Society's BICC (Business Inner Club Counsel) Representative. Continuing his out reach he has also been Elected by The Latino Business Student Association as the Director of Events to cultivate the business side for the members. Cristian has recently been elected to participate in program called University innovation Fellows a program hosted by Stanford University; to bring creative change to the university by developing creative atmospheres for discovery.
There is much to expect form this talented individual who's connections and collaborations hold to be fruitful and compelling
Related Links
Cal State Fullerton University
California State University of Fullerton Student Priorities
---
---