Fellow:Cosima Decho
Jump to navigation
Jump to search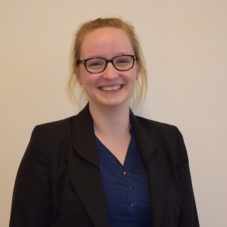 Cosima Decho is a University Innovation Fellow and an undergraduatestudent studying Biomedical Sciences at Salzburg University of Applied Sciences. She sensed her passion for helping other people at a very young age and always tried to improve other people's situations. Therefore, it was no surprise that she wanted to become a volunteer ambulance woman at the Austrian Red Cross at the age of only seventeen. She still spends a huge part of her free time working for the ambulance service voluntarily. To gain a deeper insight in the causes for diseases, she decided to study Biomedical Sciences. In her class, Cosima is also the representative for all the other students as she's willing both to communicate with professors a lot and to listen to other student's issues in order to find a suitable solution. 
Biology and medicine are not the only field of her interest: while growing up, she also discovered that she is talented with languages. During attending secondary school, she learned no less than four foreign languages, including English, French, Italian and Latin (which helps her to understand a little bit of Spanish, too). 
From a very young age, Cosima also loved music, which is why she started taking piano lessons at the age of only four and a half years. While growing up, she also spotted her passion for singing. So she joined a choir and had the honour to perform as a soloist in a concert at the Salzburg Festival in 2016. 
Links
Colleagues - Leadership Circle 2019:
Nora Bendl: https://universityinnovation.org/wiki/Fellow:Nora_Bendl
Julia Brunhuber: http://universityinnovation.org/wiki/Julia_Brunhuber
Christiane Koch: http://universityinnovation.org/wiki/Christiane_Koch
Eva-Maria Kremser: http://universityinnovation.org/wiki/Eva-Maria_kremser
Maximilian Lugmair: http://universityinnovation.org/wiki/Maximilian_lugmair
David Pollhammer: http://universityinnovation.org/wiki/David_Pollhammer
---
---