Fellow:Constanza Orellana
Jump to navigation
Jump to search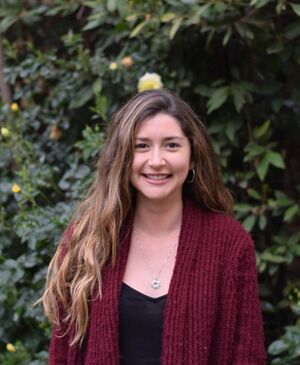 Name

Constanza Orellana

School (Cohort)

Universidad de los Andes Chile (2020 cohort)

Majoring in

Services Administration

Country

Chile

Email
Bio
Born on August 24th, 1999 in Concepción, Chile. She lives with her parents, a younger sister, and her loved dogs Tinto and Blanco. She moved to Santiago (the capital city) in 2007 and finished High School in 2017.
In 2015 she had the opportunity of living in Boston (Massachusetts), for three months to study English. She had the chance of getting to know people from all over the world, who are still in touch with her until today.
She is majoring in Services Administration at Universidad de los Andes with a minor in Movies and Cinematography.
She is usually called Coty. Loves pets (especially dogs), reading (her favorite book is Les Misérables), visual arts (her favorite painter is Henri Matisse), movies (her favorite movie is The Shinning), folklore, and is a vegetarian since 2016. She wants to protect the world´s flora and fauna.
She identifies herself as a proud feminist. She feels empowered to help create a world with no gender discrimination and where women can feel safe and develop themselves in everything they want to pursue and achieve. She also doesn´t support any kind of discrimination, even if it is out of the race, religion, sexual orientation or identity, among others.
During her time in university, she has been an assistant for her English teacher, and a part of different programs to help her mates in academic matters. She is part of her university´s Student Council as the head of the Wellness Comision. Her team is in charge of working to developing projects to help improve other students´ mental health and promote awareness of the matter. They are creating a project called "Red de Apoyo Psicológico" which is an independent organism in her university who will care for the students´ mental health by offering therapy and counseling. She thinks that with this project they will help students by breaking the taboo associated with normal and common issues as anxiety and depression.
In her free time, she usually reads a book, practice boxing, watches a classic movie, or listens to music as Twenty One Pilots, Greta Van Fleet, or Panic at the Disco!
Achievements
Best university´s admission score
Academic achievement Scholarship
English course Assistant
Accounting course Assitant
Internship in her university´s International Relations Department
Head of her Student Council´s Wellness Comision (FEUANDES)
Social media profiles
Instagram: @constanzaorellana
Related Link
School
Universidad de los Andes, Chile
Student Priorities
Universidad de los Andes, Chile Student Priorities
Fellows 2020
---
---