Fellow:Christiane Koch
Jump to navigation
Jump to search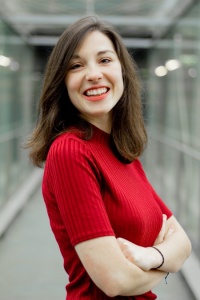 Christiane Koch is a University Innovation Fellow and studies MultiMediaTechnology in her 4th semester at the Universtiy of Applied Sciences in Salzburg (FH Salzburg).
After completing her bachelor degree in Business and gaining international working experience in Sales in the tourism industry, she decided to broaden her horizon and took a step into a technical study program. Besides studying she is working in a travel agency and supports the company in social media marketing and customer support. She doesn't only enjoy to work in a travel agency, travelling is also her biggest passion. Therefore, she spent half a year in South America to travel, immerse herself into different cultures and most importantly, learn to speak Spanish.
In her study program, she is vice class president and is always willing to listen to all the problems her fellow students have and solve the problems.

Together with her cohort she was organising the Alps Meetup 2020 - it was such a great experience!

Links
Colleagues - Leadership Circle 2019:
Nora Bendl: https://universityinnovation.org/wiki/Fellow:Nora_Bendl
Julia Brunhuber: http://universityinnovation.org/wiki/Julia_Brunhuber
Cosima Decho: http://universityinnovation.org/wiki/Cosima_Decho
Eva-Maria Kremser: http://universityinnovation.org/wiki/Eva-Maria_kremser
Maximilian Lugmair: http://universityinnovation.org/wiki/Maximilian_lugmair
David Pollhammer: http://universityinnovation.org/wiki/David_Pollhammer
---
---