Fellow:Charan Sai Pala
Jump to navigation
Jump to search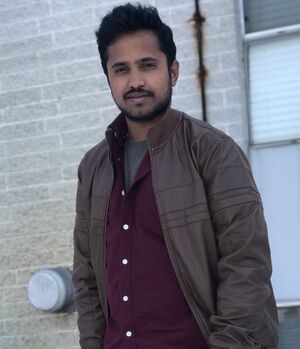 Serving as UIF Since: Fall 2016
School: Madanapalle Institute of Technology & Science, Madanapalle
What he does now: Operations Executive, The Climber
What that means: Counselling the students in discovering their passionand helping them pursuing it. Also, we are creating a passion revolution in India.
Contact him about: ​Career guidance, Higher education, designing learning experiences, finding the next generation Fellows at your school, Guest talks on UIF & Design Thinking workshop at your schools, Mentoring for International programs.
Email: pcharansai89@gmail.com
Phone: +91 8790042409
Charan Sai Pala is a former student in Electronics & Communication Engineering & University Innovation Fellow at "Madanapalle Institute of Technology & Science." From the University Innovation Fellows program, he developed and spread skills in innovation and entrepreneurship. It provided him with an exceptional networking opportunity. He took an active role in many changes happened in teaching and learning procedures in his college. He is currently working as "Operations Executive" in The Climber.
He grew up in Chittoor district of Andhra Pradesh state in India with a strong love for traveling. He was very passionate about exploring and always show interest in learning things outside the class. His experiences inside and outside the classroom have built him into the person he is today, with a heart for innovation and a mind for engineering. He put this enthusiasm into his invention.
He is one of the pioneers in initiating many student development activities and International programs that allows students to travel the world to gain the exposure. He was a student with innovative ideas and having excellent academic challenges who always tried to take the lead role in any such activity that ensures student entrepreneurial mindset. He had a stronghold in collaborative student activities and foremost to initiate any such institutional events. In a bid to finding a way, he embarks on all skills and gains the power of speaking with purpose and vision. He tries to find new opportunities by being proactive and building confidence in himself.
He was a delegate for Harvard Project for Asian & International Affairs held at Sydney during August 2017 and was invited as the delegate to United Nations Youth Assembly 2018 held at United Nations HQ, New York during February 2018. He also got selected for Entrepreneurship training at Asia Pacific Innovation Academy at Shenzhen, China with the full scholarship of 1699 Euros.
He was a coordinator for Student Quality Assurance Cell, Entrepreneurship Development cell for MITS and also Student coordinator for Students Clubs'- Yoga & Meditation. He is also working with Andhra Pradesh State Skill Development Corporation for changing higher education in his state.
Other interests: He is a Foodie & his love for chicken is unconditional, Traveller. He is building a online community for paid mentoring.
Related Links
Campus Overview:
http://universityinnovation.org/wiki/Madanapalle_Institute_of_Technology_and_Science
Student Priorities:
http://universityinnovation.org/wiki/Madanapalle_Institute_of_Technology_and_Science_Student_Priorities
Student Contributors:
Fall 2016 Fellows:
Spring 2017 Fellows:
Fall 2017 Fellows:
Spring 2018 Fellows:
---
---