Fellow:B.N.V. Vasu Deva Rao
Jump to navigation
Jump to search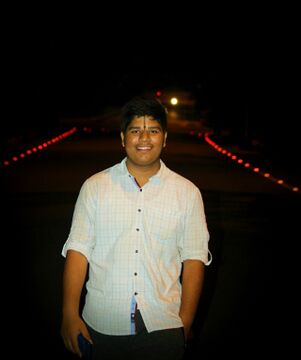 Name

Vasu Deva Rao B.N.V.

School (Cohort)

Madanapalle Institute of Technology and Science (2020 cohort)

Majoring in

Electronics and Communication Engineering

Country

India

Email
Bio
Vasu Deva Rao is born and brought up in the Holy Pilgrimage centre Tirupati, in the state of Andhra Pradesh in India. He is currently in his second-year bachelor's degree in the stream of Electronics & Communication Engineering at Madanapalle Institute of Technology & Science, Madanapalle, which is just 2 hours drive from Tirupati.
He is an extrovert and loves to socialize.He is good at understanding and convincing others. He is a goal-oriented guy and likes to be an independent person. He is intellectual and intuitive and has many clear thoughts about Entrepreneurial goals .He is a self disciplined person and motivates others. He is very much interested in learning things in the real world. .
He is actively involved in Innovation and marketing skills. He entered the field of Marketing at the age of 17 and worked as a marketing Intern for a MultiNational Company. He is good at data analyzing. This made him passionate to be a data analyst to explore and predict the market trends. Now he is working with python on Data-Science to create an automated system to predict the market trends with higher accuracy which can be used in stock market investing.He is also keen on Arduino and Web Development.He spends his free time reading books, catching up with his friends, and listening music.
According to him everyone has hidden innate skills and so self exploration will enable them to realise the dreams. This young man believes that "Leadership is an action not Position", and so any one and everyone stands a chance to become a leader one day and all that has to be done is marching forward towards enhancing one's own skills and talents.
Achievements
Social media profiles
Facebook:
https://www.facebook.com/vasudevaraobodi/
Instagram:
https://www.instagram.com/vasudon/?hl=en
Twitter:
Linkedin:
https://www.linkedin.com/in/vasu-deva-rao-bodi-a05b7a1a9/
Discord:
Vasudon#1032
Institute wiki: [Madanapalle Institute of Technology & Science]

---
---