Fellow:Abhishek Pasupulate
Jump to navigation
Jump to search
heeeellllooooooo thereeeee!

| | |
| --- | --- |
| Serving As Fellow Since | Fall 2018 |
| School | Madanapalle Institute of Technology & Science, Madanapalle, India |
| What he do now | UI/UX Developer in Infosys Pvt. Ltd |
| Email | abhishek.pasupulate@gmail.com |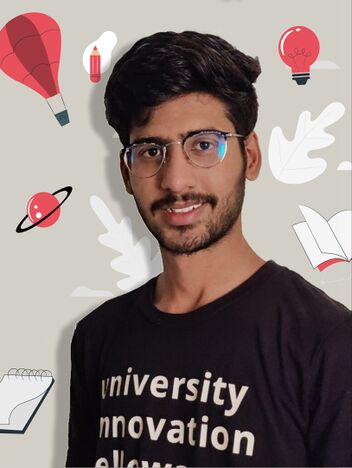 (/'Fellow Fall 2018; born April 7, 2000) is a casual photographer and an inventor. The majority of his work is centred on cutting-edge technology such as IoT and Augmented Reality. His inventions are intended to address societal concerns, such as haptic glasses for the blind, an AR-based helmet to avoid accidents, and a low-cost home automation system for the elderly. He is a tech-obsessed individual who is always on the leading-edge technologies. Aside from his innovations, he also a Front End Developer and UI/UX designer. His areas of expertise include JavaScript, HTML, CSS, React Js, and UX design. He is also a freelance Web developer.
Abhishek Pasupulate graduated from Madanapalle Institute of Technology and Science with a bachelor's degree in Electrical and Electronics Engineering. He was born and raised in the Indian town Madanapalle. Throughout his undergraduate career, he held positions such as Student Coordinator for the Entrepreneurship Development Cell, University Innovation Fellow, and Active NSS member. He also held Eight workshops and provided an internship program on Full Stack Web Development to students through his industry connections. He is also a contributor to an MOU between IIT Delhi EDC and MITS, the first MOU brought by students on his institution. He also helped his college develop a portion of his Institute Website
His Recent Works:
He is currently employed as a UI/UX Designer at Infosys Pvt. Ltd. He worked on two large projects and attended numerous UX design meetups and completed various design certifications to stay current with technology. He is also pursuing Google's UI/UX designer certification on coursera, which will help him in becoming one of the best designers.
During the pandemic, he worked as an intern in the R&D Department of NASH TECH LABs on oxygen concentrators. At the end of his research internship at Nash Tech Labs, he conceptualized a solution to assist manufacturers in developing low-cost oxygen concentrators, where oxygen concentrators can save patients' lives during pandemics.
He has worked as a Frontend Developer and Freelancer for two clients so far. The projects are SanSam.in and Ctrlkart.com, and both clients have a high level of satisfaction in the work that he has done for them.
Fall 2018 doings as UIF:
We, the Fall 2018 MITS fellows (Rohith.B, Sreevani Kanala, Tasmi Samreen, and myself), established the Student Activities Cell to assist all clubs on campus and to help new clubs flourish. This had a major impact and significantly expanded student activities on campus. This SAC is intended to be controlled entirely by students, with a President elected by the students as the cell's leader. This SAC is made up of nine clubs, each with 200 or more volunteers.
We launched MITS TALKS by recognising student leaders and exceptional talent on campus. This will allow students to showcase their unique abilities and motivate other students to enhancing their skills. We have successfully held four MITS TALKS, and our next fellows are working on more.
On-campus, we successfully conducted 60 Design Thinking sessions. Every session, we changed our techniques by bringing new activities for better immersion and fun learning. In addition, we held two online Design Thinking workshops, one Starter Kit workshop, and four revised Starter Kit workshops. Our workshops drew well over 1500 students. Aside from that, we also had student interactions. We provided students with assistance and direction in order for them to meet their needs on campus. Every year, we held an orientation session for newcomers to help them better comprehend college.

Social Media:
---
---