Fellow:Aaron van Santen
Jump to navigation
Jump to search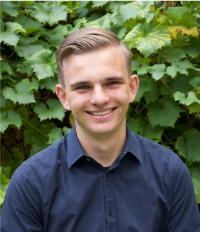 Name

Aaron van Santen

School (Cohort)

University of Twente (2020 cohort)

Majoring in

Technology and Liberal Arts and Sciences

Country

The Netherlands

Email
Bio
Aaron van Santen was raised in Ermelo, a small village in The Netherlands. Ermelo lays at the edge the Veluwe, a huge nature reserve. By going there regularly, he got to enjoy the woods, and still does. From time to time, you can find him there to clear his head and take pictures of the wildlife that is all around there.
At the age of 18, he decided to go to university and is now a second year student at the program: Technology and Liberal Arts and Science (Bsc). This multidisciplinary program focusses on creating the new engineer, the engineer that is capable of combining the exact fields with the social sciences. His focus is mainly on building and programming electronic systems.
Next to this, Aaron is the chair of our archery association on campus, S.H.B.V. Sagittarius. He chose this position in order to improve his leading skills, general sense of managing and learning how to handle internal problems within a group.
There were several reason he wanted to be part of the UIF. First off, his believe is that the mindset of the innovations fellows is amazing. He believes that the UIF is the embodiment of the world wide known quote from Mahatma Gandhi: "Be the change that you wish to see in the world". Secondly, being part of this amazing community is something that will count for life. Aaron loves travelling, for the main reason that he gets to learn about new cultures. Being part of this world wide community will allow him to work and interact with more different cultures, and that is simply, spectacular.
Projects
CommUniTy
CommUniTy is the student networking project from the UIF Twente. The aim of the project is to connect students from different studies to work together on multidisciplinary projects.

Marketing team
Aaron is part of the marketing team of the university innovation fellows of Twente. This internal project focusses on the social media platforms in order to raise name awareness and keep our stakeholders up to date. His interest in social media and marketing is the reason he has joined this project and he will continue to enhance these skills during his time spent on this project. For the upcoming year, Aaron is in charge to look after the instagram of UIF Twente.
Social media profiles
https://www.instagram.com/aaronvansanten/
https://www.linkedin.com/in/aaron-van-santen-333717197/
---
---