Fellow:Thyne Scholte
Jump to navigation
Jump to search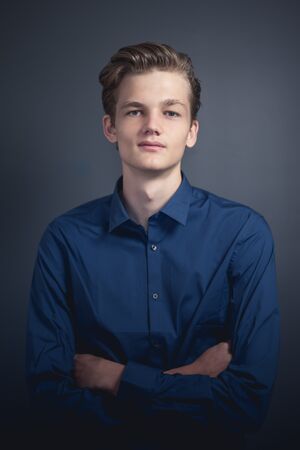 School: University of Twente (UT)
Cohort: Fall 2019
Contact him about: Anything to do with technology, 3D printing, hosting workshops on design thinking, Campus Apps, Artificial Intelligence, and Data Science.
Email: scholte.thyne@gmail.com


Thyne Scholte is a University Innovation Fellow at the University of Twente (UT). He is currently studying (MSc) Artificial Intelligence at the University of Amsterdam . Thyne was born in Amsterdam but lived his entire life abroad in Yemen, Rwanda, and Cameroon. This has shaped who he is today and his ultimate goal is to one day move back and use his expertise to help businesses compete with the western world. In Thyne's first year he was chair of the Media committee of his study association where he continued to work on the association's website. Next to that, he joined an Honours program that focused on Processes of Change. This program taught Thyne a lot about himself and the type of role he plays in a team.
Thyne's major is in the field of Artificial Intelligence and Entrepreneurship. This stems from his interest in anything technology related. In his second semester he together with a group of students built a plan on the possible implementation of an artificially intelligent system into the dutch electrical grid to increase both its efficiency and resilience. Thyne has challenged himself here by taking part masters level courses to learn more about the field. 
As a University Innovation Fellow, Thyne's first project was improving the UT Campus App. The app was initially built just to welcome students to the UT. Thyne had the vision to create am app that would be the central hub for events on campus. Currently, all events are spread out over multiple different sources. Creating one place where all of these events are housed would possibly bring a larger sense of community to the campus at the UT. With the push and student input, Thyne added to the project a new app is currently in development.
Next to that Thyne took on the role of Financial Coordinator or the UIF Twente. With that role, he strategizes on how best to divide the funds to make the largest impact on Campus. With that role, he is also part of the coordinating team and its responsibility to continue to look for partners with similar goals to increase the presence and image of UIF in Twente.
Aside from that Thyne is also on the organizing team of the first Twente-Four Hours (24 Hours Online) Meetup. Here he will oversee the technological aspect to ensure that the attendees get the best participating experience.
Thyne has also worked on several other projects and would love to get into contact if you anybody needs help!
Related Links
---
---