School:Jackson State University
Jump to navigation
Jump to search
Jackson State University (JSU), a Historically Black University, is the fourth largest state-supported institution in Mississippi. Located in Jackson, Mississippi, Jackson State University is designated as Mississippi's only urban university. Jackson State University is designated as a "high research activity" University by the Carnegie Foundation. The University is accredited by the Commission of the Southern Association of Colleges and Schools Commission on Colleges (SACSCOC) to award bachelor's, master's, education specialist, Doctor of Education, and Doctor of Philosophy degrees.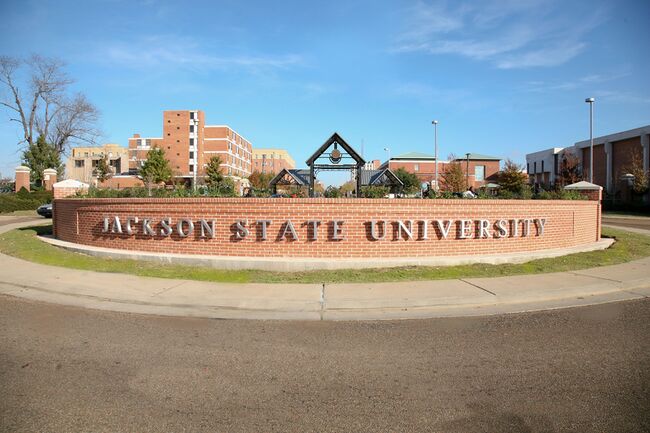 Campus Overview(2022)
Promoting student innovation and entrepreneurship:
Jackson State University has a number of offerings to support students and the general public in spreading awareness about innovation and entrepreneurship. In order to inspire students, Jackson holds a number of talks dubbed Leadership Connection Speaker Series, and Master Class Series. The Leadership Connection Speaker Series invites students/guests to join well-respected and accomplished executives from today's leading companies as they discuss important issues affecting today's students as they prepare for post-graduate life with an innovative and entrepreneurial mindsets. The Master Class series targets anyone interested in learning tried and true methods from individual leading the charge across different industries.
Students can learn more about innovation and entrepreneurship through the following courses: BIZ 350 - Business Communications, ENTR 285 - Creativity, Innovation, and Entrepreneurship; ENTR 460 - Managing Technological and Creative Art Innovations through the Department of Accounting, Finance, and Entrepreneurship & Business Administration under the College of Business.
The JSU Center for Innovation and Entrepreneurship (CIEED) offers students a makerspace and an innovation space to experiment in I&E. The space offers Software Development, Virtual Reality, 3D printing, Production Room, Collaboration rooms, Embroidery machine, Laser Cutter, and Silhouette Cameo.
Encouraging faculty innovation and entrepreneurship:
Jackson State encourages faculty innovation through the Faculty Development for Student Success Program. The Faculty Development for Student Success activity is a junior faculty mentoring program that aims to cultivate a faculty-initiated culture of innovation that encourages teaching, advising excellence, and collaboration, and promotes career-long faculty development in scholarly and creative activities as well as in professional development activities.
Actively supporting the university technology transfer function:
The Division of Research and Economic Development manages the  technology transfer, licensing, and commercialization process at Jackson State University. The Tech Transfer Unit  assists faculty, staff and students in identifying research with potential commercial interests and help to develop strategies for how to exploit these interests.
Facilitating university-industry collaboration
TBA
Engaging with regional and local economic development efforts:
The Jackson State University- Small Business Development Center JSU –SBDC is part of a network of Small Business Development Centers across the nation bringing expert business knowledge to small businesses at no cost. JSU – SBDC has a business library that covers a wide range of business related topics and other resources. Also, clients can access demographic and industry data to help develop their business plan. The center has knowledgeable and experienced business counselors who assist in making a business dream become reality. The center offer workshops on a monthly basis which provide valuable information for starting and planning a business.
Campus Overview(2014)
Business Development Resources on Campus
The MS e-Business Innovation Center (MBIC) is a technology business incubator dedicated to assisting new businesses in their development.
The 

MBIC

 is designed to guide 

entrepreneurs

 through the process of building viable business operation by providing an environment tailored to meet their individual needs.
The 

MBIC

 provides networking opportunities, mentoring, and coaching assistance. The focus is on ethical and strong business practices. The 

MBIC

 process is intended to enable graduating companies to be successful in the business world.
The Center for Business Development and Economic Research (CBDER) coordinates the research and service functions of the Jackson State University's College of Business. CBDER is actively involved in community and economic development through its partnerships with the Hinds County Economic Development District, the Metro Jackson Chamber of Commerce, the City of Jackson, and other entities and agencies. CBDER is composed of the Bureau of Business and Economic Research (BBER) and the Small Business Development Center (SBDC). Also, CBDER is involved with the education and training arm of the Mississippi Consortium for International Development (MCID) which offers seminars, internships, and other training opportunities.
The Mississippi Minority Business Alliance, Inc. (MMBA) creates and expands mutually beneficial relationships between minority-owned businesses, suppliers, and service organizations throughout the state of Mississippi. As the only statewide minority business alliance, MMBA advocates, facilitates, and brokers for the advancement of minority-owned businesses. MMBA members are minority-owned businesses, corporate, governmental and educational institutions, and small minority-business resource agencies.
Jackson State University's Small Business Development Center (SBDC) is part of a network of Small Business Development Centers across the nation bringing expert business knowledge to small businesses at little or no cost to the small business owner. The Center has a business library that covers a wide range of business related to topic and other resources are available in the form of CD's and videos. SBDC also has access to demographic data that can assist in the development business plans.
Innovative Services offered by or in partnership with 

JSU
Intelligent Solutions, LLC is designed around improving the efficiencies of organizations with the use of technology. Many businesses can produce better results by utilizing resources with optimal efficiency. We desire to help businesses operate at that level. Intelligent Solution's primary service areas include financial and accounting services, benchmarking, and computer networking.
Entrepreneurial Ventures
Tigertech @ JSU - First Apple store on an HBCU campus, first Apple store on a college campus in the state of Mississippi, and the second Apple store in the State of Mississippi.  
http://jacksonfreepress.media.clients.ellingtoncms.com/img/photos/2014/01/28/JSU_apple_store_DL_t670.jpg?b3f6a5d7692ccc373d56e40cf708e3fa67d9af9d
Related Links
Jackson State University Student Priorities
---
---