School:Fordham University
Jump to navigation
Jump to search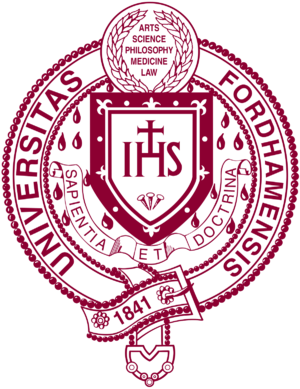 We're a Jesuit, Catholic university. Our spirit comes from the nearly 500-year history of the Jesuits. It's the spirit of full-hearted engagement—with profound ideas, with communities around the world, with injustice, with beauty, with the entirety of the human experience.

This is what makes us Fordham: We're a tight community in New York City, and we value and educate the whole person. Much of our Jesuit history and mission comes down to three ideas, which, translated from the Latin, mean roughly this:
Strive for excellence in everything you do.
Care for others.
Fight for justice.
It adds up to an education that works. 
Wisdom, experience, morality, critical thinking, creative problem-solving. This is what Fordham students take into the world.


Innovation & Entrepreneurship
Promoting Student Innovation & Entrepreneurship
Fordham promotes student innovation and entrepreneurship through formal programs and extracurricular activities. Fordham offers many different concentrations that deal with innovation and entrepreneurship, from sustainable business to social innovation concentration, enabling its students to explore and learn valuable skills. Fordham also offers classes that allow students to pursue innovation or entrepreneurship after college, such as "Launch Your Start-Up" and "Leadership and Change". The University houses numerous extracurricular activities and innovation spaces that further allow students to expand their knowledge outside the classroom. The Fordham Foundry and Social Innovation Collaboratory are spaces and extracurricular offerings where like-minded individuals are able to help one another and work together. The Fordham Foundry provides competitive opportunities that give students a chance to win monetary prizes based on their businesses or business ideas, such as the Pitch Challenge. Additionally, the Entrepreneurship Society, Gabelli Technology and Entrepreneurship (GTECH), and Social Impact 360 are other extracurricular outlets for students to further their interests in innovation and entrepreneurship.
Encouraging Faculty Innovation & Entrepreneurship
Fordham has been named a "Changemaker Campus" by Ashoka, a global organization that honors universities for innovative efforts to foster social good and strengthen society. As a Jesuit institution, Fordham strongly believes in social innovation and entrepreneurship, as well as investing in the continuous development of their faculty and staff. Although Fordham has yet to pursue any policy changes to encourage more faculty entrepreneurship, the faculty lead by example, actively share their learnings and best practices, and participate in new advancing the field of social innovation and change making in higher education.
Actively Supporting the University Technology Transfer Function
Fordham has a fundamental respect for intellectual property that is produced by either employees or students at the University. As a university, it has a nationally recognized Intellectual Property, Media & Entertainment Law Journal, that has been running since 1990. Fordham also offers a variety of classes to educate students on the fundamentals and specifics of patent laws. The University has sought seed and alumni donations to properly fund professional and technological research.
Facilitating University-Industry Collaboration
Fordham has The Office of Corporate and Foundations Relations which works with the President's council to establish strategic partnerships with corporations. They create mutually beneficial relationships between the University and corporations. Some examples of actions they've helped institute include: hosting CEO breakfasts, using relationships for student internships, guest lectures from business professionals and more. The Fordham Foundry, Fordham's hub for innovation and entrepreneurship, also works closely with numerous student and alumni run start-up businesses. The Fordham Foundry provides great resources through their network and partnerships with NYC Business Solutions, BNP Paribas, and NASDAQ OMX Education Foundation to help, educate, and connect entrepreneurial students.
Engaging with Regional & Local Economic Development Efforts
As the only Jesuit University in New York, Fordham is committed to the discovery of wisdom and the transmission of learning, through research and effort to help its surrounding community. New York City provides Fordham with a special kind of classroom, its unparalleled resources shape and enhance Fordham's professional and undergraduate programs. The University recognizes its debt of gratitude to the city and its responsibility to enrich of NYC. Furthermore, Fordham is committed to research and education that assist in the alleviation of poverty, the promotion of justice, the protection of human rights and respect for the environment. Fordham has a variety of programs that get students involved in the community and local businesses through volunteer opportunities. Opportunities include Urban Plunge, the Center for Community-Engaged learning, and the Dorothy Day Center. These resources really give students hands-on experiences to contribute to a greater cause.
Landscape Canvas
The 2020 Landscape Canvas can be found here.
The 2019 Landscape Canvas can be found here.
The 2018 Landscape Canvas can be found here. 
Strategic Priorities
The 2019 Fordham University Student Priorities can be found here. 
The 2018 Fordham University Student Priorities can be found here. 
Related Links
2019 University Innovation Fellows Candidates:
2018 University Innovation Fellows:
---
---