School:Aditya College of Engineering and Technology
Jump to navigation
Jump to search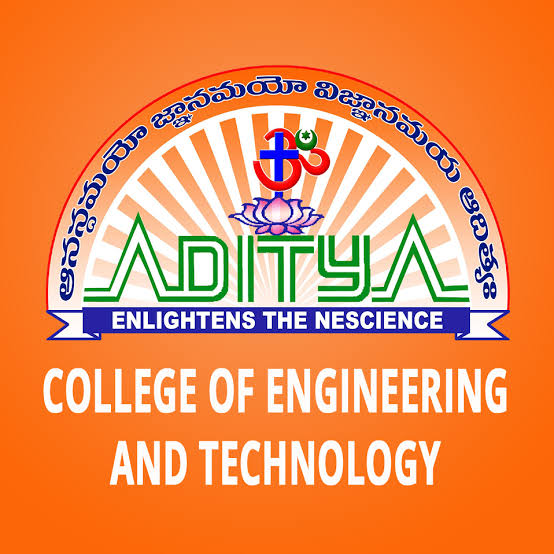 Introduction
Aditya college of engineering and technology was ranked 5th among the top 10 South Indian colleges."Sri Nallamilli Seshareddy", the founder chairman, established Aditya educational institution in the year 1984, with a vision and mission to create a platform for holistic growth and success to students at all levels. It is approved by AICTE, Recognized by Govt. of Andhra Pradesh, Permanently affiliated to Jawaharlal Nehru Technological University Kakinada (JNTUK) and is accredited by National Assessment And Accreditation Council (NAAC) with 'A' grade.
Campus Overview
Aditya College of Engineering and Technology is located in an eco-friendly area of 180 acres with greenery at Surampalem, Gandepalli Mandal, East Godavari District, Andhra Pradesh, India. The college as a group reflects the grand vision of Aditya in providing the best infrastructure and arena. It has bus facility of its own from Kakinada and Rajahmundry for students as well as faculty, hostel facilities for boys and girls in the College Campus itself in an absolute tranquil atmosphere. Students have access to ultra-modern facilities in the hostel provided by the College Management including gym, technical labs, mess with a variety of cuisines of different parts of the country. A 24 hr Internet Lab facility also provided for students staying in the hostel. Spacious rooms with essential comforts, away from the bustle of the concrete jungle, ensure an environment that is most conducive to studies. The college has employed the most professional and passionate faculty to deliver knowledge and contextual applications in a vibrant learning environment. Students studying here come from 19 different states in India and 12 other countries. The intention of the silver-jubilee educational group is to provide high-quality education in varied disciplines of technical education. Within a span of a decade, it has steadily evolved into a world-class institution recognized for its experiential learning methodologies and practical exposure.
What's special about our college?
-Affiliated to JNTU Kakinada
-ISO Certified
-NAAC(AQAR 2017-18) (AQAR 2016-17)
-Accredited by National Assessment
-Accredited by IAO

In order to make overall development of personality, emphasizes is laid on improvement of communication skills with a fusion of leadership qualities. Some of the extracurricular activities of the students exercise to:
-Hobby Club
-Language Club
-Technical Writing and Quiz Club
-Debating Societies
-Robotics
-Adventure Sports
-Music and Fine Arts
 The Five Parameters:
Promoting Student Innovation And Entrepreneurship:
Aditya College Of Engineering And Technology supports and encourages innovation in numerous ways. The most prominent one is the Entrepreneurial Cell. The students can avail this opportunity to create something and establish they want to. Students can utilize them to try out different ideas. It supports them in every way possible. The skilled mentors ready to assist the students is unrivaled within the college. This way the college promotes innovation among students. The college supports any entrepreneurial endeavor the students come up with. Five such ventures are Get My Tailor(getmytailor.com), Get My Books(getmybooks.com), Hire Puppy, Oasis. Also, the students are eligible to receive a donation up to 70,00,000 INR from the college to support their idea and venture.
Encouraging Faculty Innovation And Entrepreneurship:
Faculty Development Programs: -Introduction To Artificial Intelligence(Webinar) -Introduction To Network Security -Effective Teaching -NBA Accreditation -Artificial Intelligence With Machine Language -Internet Of Things -Data Sciences -Reinforced Concrete Structures -Fluid Mechanics And Solid Mechanics
Actively Supporting The University Technology Transfer Function:
The Technology Transfer Center (TTC) within the Office of Economic Innovation and Partnerships (OEIP) is responsible for the protection, management, and commercialization of Aditya's intellectual property assets. The TTC also provides advice to UD faculty, staff and graduate students regarding the disclosure of innovations, IP protection in the form of patents, copyrights, trademarks, as well as contracts and other research-related agreements. As inventors become entrepreneurs, the TTC, in cooperation with the Aditya Small Business Development Center (SBDC), assists with the growth of new businesses by providing consulting and training in areas such as business strategy and planning, funding strategy, team development, and management skill development.
Facilitating University-Industry Collaboration:
The college has collaborated with many different industries. The MOUs include-
-Moodle-LMS(Learning Management System)
-Entrepreneurship Club
-National Level Hackathons
-SAP Certified Courses
-APSSDC Certified Courses
-NPTEL Certification Courses
-University Donation Program(Hacker Rank)
-Training on the CISCO Certified Networking Association Program
-University Donation Program(ARM)
-Microsoft Student Partner

Engaging With Regional And Local Economic Development Efforts:
Some of them include:
-Sunrise Startup's
-Smart Village Revolution
-Implementing eco-friendly projects like Plantation, Dustbins, Solar Plans in Aanur
-Soilers Forming
-SNG Elevation Works
Aditya College of Engineering and Technology Employability Training:
The students get trained in aptitude and soft skills. Specific training on logical and reasoning,problem-solving, critical thinking and teamwork are given coupled with assessments. Evaluations are done through CoCubes.com and AMCAT which gives a national perspective in assessments.
Aditya College of Engineering and Technology Placements:
The college has numerous programs which make the students acquire the skills required to get placed in one of the reputed companies. The campus recruitment training is given to the students along with their curriculum. It has 25 dedicated mentors exclusively for training and placement program. The highest package in 2021 was 31.31 LPA offered by Amazon.
Related Links:
Team Members: La Selene Dommu, Mayukhi Choudhary, Pranavi Jampana, Sandeep Addala
Design Thinking: Interview, Synthesis and Ideas
Landscape Canvas: ACET Google Spreadsheet
Campus Overview: ACET WikiPage
Strategic Priorities: Student Priority Wiki Page
Change Model Canvas: Google Doc
Storytelling: Change Story video
Stake Holder Meeting: Report, Artifacts
FALL 2022 Cohort:
Team: Avinash Pabbisetti, Chinnu Thrimurthin Kolaparthi, George Melangton, Sri Anusha Reddy Chirla

---
---