Fellow:Zişan Özdemir
Jump to navigation
Jump to search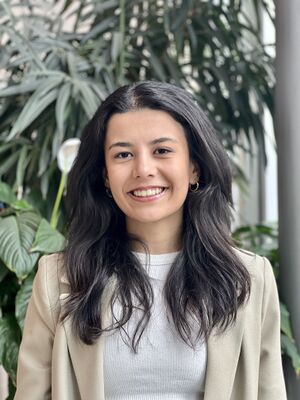 Name

Zişan Özdemir

School (Cohort)

Boğaziçi University (2020 cohort)

Majoring in

Chemical Engineering/Environmental Sciences

Country

Turkey

Email
Bio
Zişan is a University Innovation Fellow and a master student at Boğaziçi University Environmental Sciences Institute Socio-Ecological Sustainability Program.
Throughout her education, Zisan has consistently shown a dedication to exploring various facets of environmental sciences, including climate policy, bioenergy, and environmental economics. She is currently working on her thesis on "The role of policy in the effective adoption of low carbon and negative emission technologies."
Zisan's professional journey has encompassed diverse roles that have further enhanced her skills and expertise. Her last experience is as a Jr. Sustainability Consultant at 3pmetrics, a B2B SaaS GHG Accounting Platform. Her responsibilities included greenhouse gas accounting, product management, and supporting the pilot testing phase for GHG Protocol Land Sector and Removals Guidance.
Before that, she worked as a Purpose Project Intern and Consumer Direct Marketing Intern at Nike. She played a role in driving Nike Istanbul's purpose strategy, coordinating sustainability and community impact projects, and managing diverse marketing initiatives at Hope Alkazar.
As a teaching assistant of Entrepreneurship and Business Development course at Bogazici University and Project Coordinator at BRIGHT Entrepreneurship Center, she engaged with peers, faculty, and administrators to create new learning opportunities, promote entrepreneurship, and foster design thinking.
At Ernst & Young, she worked as a Sustainability Consulting Intern on non-financial reporting and impact assessment frameworks, and at Impact Hub Istanbul as a Community & Programs Intern, engaging in projects focused on accelerating impact enterprises and sustainable development.
Besides, Zisan has been actively involved in various organizations and activities. She has served as an ambassador for Ecosummit Berlin, a Future VC Leader at The New Rising VC Academy, and a team member of the Social and Environmental Responsibility Committee (SERC) at ESTIEM. Her engagement with Impact Hub Istanbul, Imece Lab, and other initiatives reflects her commitment to driving positive change.
Achievements
Got awarded 1st place at the Innovation Hackathon with a project to digitalize the process of donations by closely working with Deep Poverty Network. The hackathon was held by Impact Hub Istanbul, Deutsche Gesellschaft für Internationale Zusammenarbeit (GIZ) and Re:Coded.
Social media profiles
https://www.linkedin.com/in/zisanozdemir/ http://instagram.com/zisanozdemirr/
---
---