Fellow:Vijay Kanupuri
Jump to navigation
Jump to search
Vijay Kanupuri is a Software Engineer currently working at Zoho Corporation, Chennai since 2 May 2019. He is a Computer Science graduate from Sri Venkateswara College of Engineering, Andhra Pradesh, India. He strongly believes in the quote "If it doesn't challenge you, it won't change you".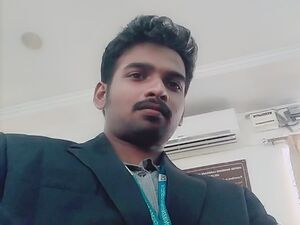 He
,
as
a member of Computer Society of India (CSI) who has been conducting many technical events in his school through which he is educating his peers.
From his childhood, he is the leader at his school which makes his leadership qualities notable.
He is good at communicating and is a spontaneous thinker.
He has been inspiring his peers to change their vision towards education.
He is interested in learning new things from Books and the internet. He is working for the advancements in nutrition. He is a hard worker who is interested in performing multi tasks. He is interested in learning things out of curriculum which made him ready for the future.
He is one among the leading programmers in HackerRank, a worldwide competing site for programmers which shows his programming skills.
He stood first in many coding events conducted for programmers. He is adept in programming languages and is working on Real-time projects.
Not only in education, Vijay is also good at playing sports.
He is a chess player who loves to think out of the box. Vijay is interested in becoming an entrepreneur. He knows every nook and corner in business management as he left no stone unturned in observing the art from his surrounding business tycoon. 
If you are interested in contacting Vijay, you can contact him through the following link: 
---
---