Fellow:Tejas S Nayak
Jump to navigation
Jump to search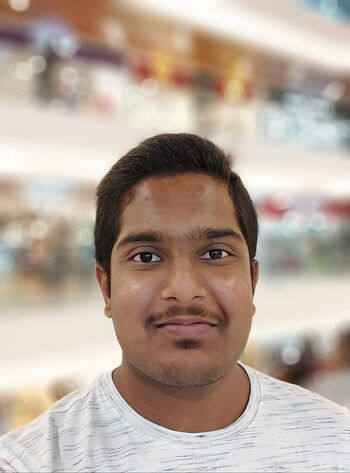 Name

Tejas S Nayak

School (Cohort)

Vidyavardhaka College of Engineering (2022 cohort)

Majoring in

Computer Science Engineering [AI&ML]

Country

India

Email
Bio
Tejas S Nayak is currently a first year student at Vidyavardhaka College of Engineering , Mysuru. Born and brought up in Mysuru, Karnataka , he is an avid learner since his childhood. From dismantling toys to create new ones in his early days to writing code in his late teens, he has been enthusiastic about developing new solutions.
He is a strategy person who gives much importance to productivity and efficiency over plain effort , a trait acquired from his wide experience in playing video games. This allows him to complete a lot of work in a relatively short time span usually to the amazement of his peers. He has a "Make the most from the least " mindset while working . In addition to this , he has always found ways to make things simple , find the easiest solutions to problems while growing up which has made him very resourceful. This in combination with his interest in tech , makes him very efficient at solving problems related to technology. While being a part of a team , he tends to be a very reliable member who equips the team with motivation to push on through even the toughest of circumstances. He participates actively and takes responsibility of the team and understands the people around him making him likely to be the leader.
Having the ability to code in four programming languages (Java, python, C and C++) by the end of grade 12 and an allure of automation has made him take up Artificial Intelligence and Machine Learning as his college major . He is also an active member of the IEEE Computational Intelligence Society (Mysore chapter) and aspires to develop projects based on automation with a team of co-developers in the near future.
In his alone-time , he likes to acquire new skills ,go on long drives , jam to music , play video games and stay up to date with current affairs. Socializing and interacting with people is always a yes for him too! He has a positive outlook on life and believes that true happiness and satisfaction lie in the process rather than the result.
Achievements
Notable Achievements of Tejas S Nayak :
1. Was selected for the "Catch Them Young " IT Training program by Infosys in 8th grade (one among the only two selected from his school).
2. Achieved the top rank in his school and a state rank of 63 in the International Olympiad of Science (conducted by SilverZone Foundation) in 2014.
3. Held the position of the Student Prefect in his school (Notre Dame School , Mysuru).
Social media profiles
Tejas' social media handles :
LinkedIn : https://www.linkedin.com/in/tejas-s-nayak-709010229/
Instagram : https://www.instagram.com/tejas_nayak__/
Twitter : https://twitter.com/TejasSNayak2
Facebook : https://www.facebook.com/tejas.nayak.9047/
---
---