Fellow:Surekha
Jump to navigation
Jump to search
                                               RATHNA SUREKHA MUVVALA  is a  university innovation fellow .she is pursing her  Bachelore of Engineering in the stream of COMPUTER SCIENCE AND ENGINEERING  in QIS .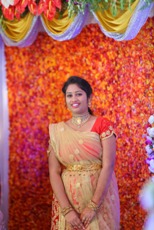 She  is well known for her good attitude and programing skills .she is also a member of COMPUTER SOCIETY OF INDIA .she is working on a MOBILE APPLICATION. She has zeal of exploring herself in different platforms which made her to grab the opportunity of turing out into UIF. she is passionate of being an Enterprenuer and loves spending her time in listening to music, surfing internet to explore new things .                                              
                             SHE BELIVES IN "WHAT YOU THINK OF YOURSELF IS MUCH MORE IMPORTANT THAN WHAT PEOPLE THINK OF YOU".
RELATED LINKS :
   COLLEGE WEBSITE :
  CSE DEPARTMENT WEB SITE :
   COLLEGE WIKI : 
          QIS_College_of_Engineering_and_Technology
STUDENT CONTRIBUTORS :
Surekha Muvvala
---
---