Fellow:Satya Pranavi Gangapuri
Jump to navigation
Jump to search
Satya Pranavi Gangapuri is a University Innovation Fellow and is a third-year Biomedical Engineering student studying at the University of Technology Sydney. She is passionate about the Biomechanics and Biomaterials stream in her studies and being actively involved in the university campus to foster positive change and innovation.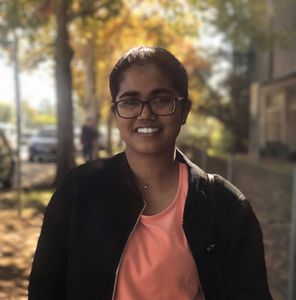 Driven by her passion to empower women, Satya joined the Women in Engineering and IT (WiEIT) community at UTS last year, to help reach out to young girls and promote the importance of STEM education and representation of girls within it. Alongside this, she is also the Treasurer for the Biomedical Engineering Society (BESUTS), with her role involving engaging and communicating with students about key events along with handling the finances of the society.
With her experience and interest in engaging in STEM and Humanitarian Engineering, Satya has recently taken on the role of a School Outreach Coordinator for the UTS Chapter of Engineers Without Borders (EWB). Similar to WiEIT, she actively reaches out to schools (often in rural areas) to raise awareness of STEM possibilities.
Through the UIF program, Satya has delved deeper into her passions and explored new opportunities such as Design Thinking hackathons and re-designing of solutions to further help & resolve campus problems.
For the future, Satya would like to continue being a part of an encouraging and inclusive community and inspire future legacies of students who will continue engaging and promoting STEM, innovation and beyond. Career-wise, Satya is looking forward to pursuing her passion for coding, computational modelling and medical devices while integrating her developed skills.
Related Links
University of Technology Sydney