Fellow:Saikumar Gaddam
Jump to navigation
Jump to search
Saikumar Gaddam is a Computer Science graduate from Rajiv Gandhi University of Knowledge Technologies Nuzvid,Andhra Pradesh,India who is passionated to obtain a challenging leadership position applying creative problem solving and lean management skills with a growing company to achieve optimum utilization of its resources and maximum profits. He was served as the Volunteer in National Service Scheme(NSS) from 2016 to 2018.He was awarded with "Prathibha Puraskaar" by the Chief Minister of Andhra Pradesh in 2015 for his academic excellence.He is also reached National Level in 21st National Children Science Congress(NCSC)-2013 held in Bhopal,Madhya Pradesh state.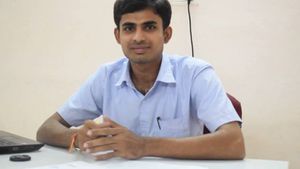 Not only the academic excellence ,he shines in the "sports" field too.He was the Captain of his District(Guntur) Under-16 Cricket team in The 59th S.G.F Andhra Pradesh Inter District Cricket Tournament-2013 held in Mahabubnagar,Andhra Pradesh (Before bifurcation).He was also the Captain of his District Under-14  Cricket team in 57th S.G.F.A.P Inter District Cricket Tournament-2011 held in Machilipatnam,Andhra Pradesh,India.
He also participated in many social activities such as Swach Bharath Mission which is initiated by the Prime Minister of India in 2014.And He is very much passionated about solving day to day problems and serving his country.
He is versatile in nature and he was also stood among the top 200 hundred best startup ideas which was conducted by the AP Innovation Society among 3000 startup ideas.He is passionate about creating global platform of intellectuals to solve the critical and simple daily problems.He was also worked on his own idea called "Nutrion" which solves the major health problems of people globally.
If you are interested in contacting Sai Kumar, he can be contacted by
Gmail : saikumarg2008@gmail.com, n150725@rguktn.ac.in
LinkedIn :https://www.linkedin.com/in/saikumarg/
Related Links :
Our Team :
Campus Overview : http://universityinnovation.org/wiki/Rajiv_Gandhi_University_of_Knowledge_Technologies,_Nuzvid
Student Priorities :  http://universityinnovation.org/wiki/Rajiv_Gandhi_University_of_Knowledge_Technologies,_Nuzvid_Student_Priorities
Pitch Video : https://www.youtube.com/watch?v=V41cQSflTH0
Landscape Canvas : https://docs.google.com/spreadsheets/d/18Q0A7HuGlTwqxAxze0IJyf2ok5Er81HgRu0Hw6mrVYk/edit#gid=0
Design Thinking : https://docs.google.com/document/d/1PI8iGJHpk5TAiYzUYPfEVX1Oc-WsXY0_iqfvtg0K8dU/edit?usp=sharing
---
---