Fellow:Prathap Puppala
Jump to navigation
Jump to search
Prathap is a enthusiastic Indian moving with the motto of empowering students into entrepreneurship. He is an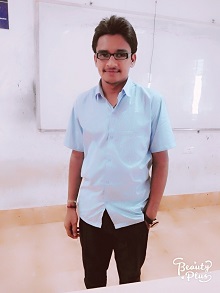 Undergraduate studying Computer Science Engineering at the Rajiv Gandhi University of Knowledge Technologies - Nuzvid, Andhra Pradesh, India. 
He have worked as an organizer for Student Development & Campus Activities Cell and proud to say that he has empowered hundreds of students in building their career on the pillars of passion. This challenging journey has introduced him to the crucial traits like Leadership &Team Building.
With the unwavering passion towards entrepreneurship, he has proposed an idea of Likeminds and received the award for our innovation in Education/ Skill Development category held by AP Innovation society and UCB. With the skills taught and learnt, he have founded a startup named "SmartQuint" with the motto of digitizing Small and Medium Enterprises in India by providing responsive websites and mobile-friendly apps. This has multiplied his passion and widened the thought of empowering students.
In connection with this, I worked as a technical co-ordinator for several organizations like Helping Hands, Teluguvelugulu, SDCAC, Yogasala, Programming Club etc. I worked as a event co-ordinator for Teckzite-2K15(A National Level Teckfest), Cygnus-2K16, TechExpo-2K15,Trezire-2K15, UG Admissions 2014-15, UG Admissions 2015-2016, Republica-2K16, Republica-2K18,Undergraduate Research Conclave-2K18,Telugaata,etc., These enlightening experiences equipped me with the key skills.
Today, Being an University Innovation Fellow, He is energetically looking to explore global opportunities in the entrepreneurship to make silicon valley accessible to the Indian students. Hungrily waiting to join the family of University Innovation Fellows.
Related Links :

Our Team :

Student Priorities : http://universityinnovation.org/wiki/Rajiv_Gandhi_University_of_Knowledge_Technologies,_Nuzvid_Student_Priorities
Landscape Canvas : https://docs.google.com/spreadsheets/d/18Q0A7HuGlTwqxAxze0IJyf2ok5Er81HgRu0Hw6mrVYk/edit#gid=0
Design Thinking : https://docs.google.com/document/d/1PI8iGJHpk5TAiYzUYPfEVX1Oc-WsXY0_iqfvtg0K8dU/edit?usp=sharing
Pitch Video : https://www.youtube.com/watch?v=V41cQSflTH0