School:Rajiv Gandhi University of Knowledge Technologies Nuzvid
Jump to navigation
Jump to search

Overview

Rajiv Gandhi University of Knowledge Technologies(RGUKT),Nuzvid is a Full residential,Autonomous and Government Funding institution.It primarily aims to provide High quality education to the Gifted Rural Youth of Andhrapradesh State.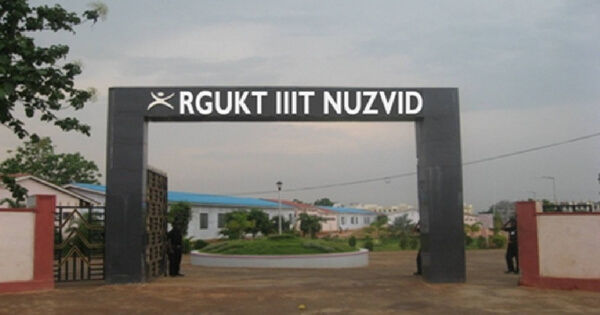 About RGUKT, NUZVID

      Rajiv Gandhi University Of knowledge Technologies is a state University located in nuzvid, Krishna District, Andhra Pradesh, India. The University has population over 6,000 students and 300 faculty, the University is offering 6 year integrated B. Tech programme in six branches & M. Tech computational Engineering.
The primary objective of establishing RGUKT was to provide high quality opportunities for aimed rural youth of Andhra pradesh. The initial goal was that at least the top 1% rural graduates would be given the opportunity to to study at RGUKT.
Another key educational objective of RGUKT is to use advances in learning science and explore the use of modern cognitive science tools in education and learning
Since the establishment it has been proving that it is the synonym of "learning by example", "learning by doing" "problem based learning.
Education system

The system aimed in such a way to impart each student broad skills of learning to earn, learning to think and learning to Live
And the system here advancing in the emerging fields such as information technology.
ACADEMICS

Academic Programs
UNDERGRADUATE PROGRAMME
The programme offered by RGUKT consist of 6 year integrated course after 10th Class examination leading to a B. Tech degree.
The first part of 6 year integrated is a two year pre University course followed by second part of 4 year engineering courses
POST GRADUATE PROGRAMME
M. Tech, this course has been designed incorporating advanced computing technologies for competing with the world class curricula
Curriculum
PRE UNIVERSITY COURSE
PUC-1
PUC-2
UNDERGRADUATE PROGRAMME (B. Tech)
Chemical Engineering
Cecil Engineering
Computer Science and Engineering
Electronics and Communication Engineering
Mechanical Engineering
Metallurgical and Materials Engineering
POSTGRADUATE PROGRAMME(M. Tech)
Introductory course
Computational Engineering
ADMINISTRATION

Chancellor:
Prof. D Raj Reddy
Chancellor &  Chairman of governing Council
He was the  first Asian to receive, in 1994,the ACM Turing Award, the highest award in computer science, for his work in the field of artificial intelligence. And bagged many awards and rewards over the course of time.
He served as Co chairman of the US President'sInformation technology advisory committee (1999-2001).
Vice Chancellor
Prof. V. Ramachandra Raju
Director : Prof V. VENKATA DASU
Department heads
STUDENTS

Education
The programme offered by RGUKT consists of a six year integrated course after 10th Class examination leading to B. Tech. Degree. The first part of the six year course is a two_year pre University course followed by a second part of four year engineering course. At present the pre University part of education offers premature specialisation in tracks such as Mathematics, physics, chemistry.
DEGREE PROGRAMS AT RGUKT, NUZVID
Yeah year consist of 2 semesters
chemical engineering
civil engineering
computer science and engineering
electronics and communication engineering
mechanical engineering
material and metallurgical engineering
The education programme has been focusing on Liberal and professional education including soft skills
There will be a focus on all-round development with emphasis on personality development and education in humanities and social sciences to make students responsible world citizens.
CDPC

Career development and placement cell at RGUKT nuzvid facilitates the process of placement of large pools of highly talented B. Tech and M. Tech students passing out from the RGUKT nuzvid and collaboration with leading organisations and institutes in setting up internships and training programme for students
Apart from providing world class education using the novel methods of teaching and learning through information and communication technology.. Resulting in win win situation for students and hiring organisation.
Anti ragging
Student welfare
NCC
RGUKT is having NCC a national level programme for students for unity and Discipline
Convocation
here in RGUKT nuzvid students are having a platform to show case their talent it may be in aspect of innovation or entrepreneurship and Convocation is one of the platform form for this kind of events and these event are the first step for graduated students(B. Tech) taking their degree.
Alumni & international relations

Founded in 2016, the International and Alumni Relations of RGUKT nuzvid were organised to promote the interests of the college and the intercourse of its graduates. Building a good corpus for many of has become urgent. And through this Website RGUKTNs can engage themselves to explore many opportunities that available, from events on campus or across the globe, educational programming and many more. And it is leading with the mission of promote best practices in different areas of science, technology
LIBRARY

In RGUKT students have been provided with good education facilities which worths crores of rupees.
Facilitating books from different types of field of Engineering and also from social sciences.
Others

The campus excelling digital education and recently set Bio metric system for online attendance and the notable thing is that students have been provided with laptops with free wifi the campus management administration has doing great things as far as their might for a system that inculcates friendly atmosphere between faculty to the students.
The campus RGUKT nuzvid and the students known for their discipline.The campus conducts many cultural and technical events such as cygnus and teckzite along with convocation.
Related Links
Campus Overview : http://universityinnovation.org/wiki/Rajiv_Gandhi_University_of_Knowledge_Technologies,_Nuzvid
Student Priorities : http://universityinnovation.org/wiki/Rajiv_Gandhi_University_of_Knowledge_Technologies,_Nuzvid_Student_Priorities
Landscape canvas link : https://docs.google.com/spreadsheets/d/18Q0A7HuGlTwqxAxze0IJyf2ok5Er81HgRu0Hw6mrVYk/edit#gid=0

Spring 2018 University Innovation Fellows
---
---