Fellow:Sai Meghana
Jump to navigation
Jump to search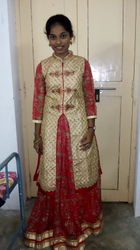 Sai Meghana Gonugunta is a University Innovation fellow and pursuing graduation from QIS College of Engineering and Technology,AP.She is well known for her good attitude and programming skills.She is also a member of Computer Society of India.She is working on a Web application JavaOpera.She fascinates about coding which made her to turn towards creating apps and recently attended a workshop conducted by APSSDC on application development which levelled up her confidence.
She possess good communication skills. She is active participant in events as she hosted bulk of events at her schooling.She is a keen observer of present world as she is enthusiastic in exploring new things. She has zeal of learning new things.She is one of the people who organized World Youth Skills day in her school.She loves travelling to historic places.She is fond of books.She strongly believes that students are the only input for bringing drastic changes in their nation.Her dream is to see India as a Developed nation.  
Her motto is "The real meaning of success is when your sign becomes autograph".
Related Links:
College Website:
CSE Departmental Website:
College wiki:
QIS_College_of_Engineering_and_Technology
Pitch Video:
https://www.youtube.com/watch?v=lGXIVIGKYTY&feature=youtu.be
Student Contributors:
---
---