Fellow:Reem Sobeih
Jump to navigation
Jump to search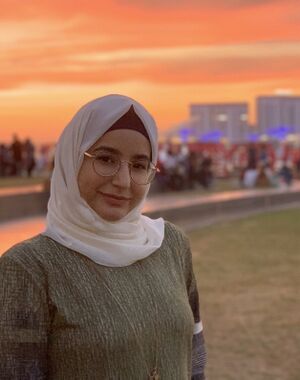 Reem Sobeih is a 24 years old IT Specialist Team leader and an Information Technology graduate from Ajman University (AU), who is fond of programming, database management and web development. Along with her profound interest in expanding and enhancing her public relation skills. Ms. Sobeih is originally from Palestine, but she was born in UAE and she has been living there ever since.
Reem is currently working in the American University of Sharjah (AUS) with a position as an IT Specialist Team Leader; her responsibilities include leading a team of IT Specialists in providing support for Students, Faculty and Staff in the university. Previous to her work in AUS, Reem had an internship at AWS as a Solutions Architect Associate, and she is now a certified Solutions Architect Associate.
In her last year in university, Reem was selected to take the role of the Lead Student Representative (LSR) in her university for the Quality Assurance Agency (QAA); writing the Student Submission Document in support of achieving this global accreditation for the university. AU has successfully received the QAA accreditation in April 2020.
Reem's passion towards technology has developed a while before her decision on taking it as a career, she found joy in keeping up with the recent technologies and in learning how to think outside the box, which is a demand when it comes to Technology and IT.
Ms. Sobeih's hobbies vary for her love of diversity, from painting and crocheting to creative writing and reading books, she was the president of the Fine Arts club in AU for two and a half years, and then became the president of the IT club. Her activities in the student council gives her perspective for when it comes to communication and solving issues.
Reem's participation in projects and competitions has enriched her sense of motivation and innovation; winning the second place in the Hackathon Competition-Data for Happiness. She loves to stay active, learn new things and connect her studying with technologies from outside. Her aspiration of helping people guides her to do good and to try to change what she knows is possible, leaving a positive mark is what she looks up to.
RELATED LINKS
Ajman University Student Priorities
Fellows 2018
Reem Sobeih
---
---