Fellow:Pravallika Modugula
Jump to navigation
Jump to search
Pravallika Modugula is an undergraduate in JNTU College Of Engineering,Kakinada,India.
She is diligent & adept at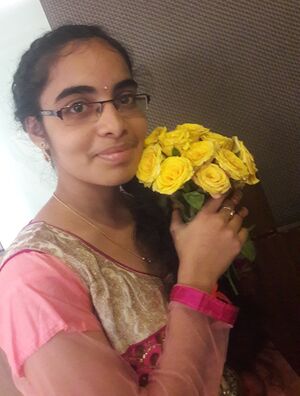 various fields. She maintains amicable relations, which allows her to lead a team in an efficient way. She has great
communication skills. She is an astute person with self-confidence.She is extremely smart and industrious. Her work has always been very systematic and organized and of very high quality. Her commitment and dedication drive her to the limit, where many sleepless nights are spent in meeting the strict deadlines of the project work.She imbibes excellent presentation and interpersonal skillsand is always ready to grab opportunities to prove herself extraordinary. She is an all-rounder and is ready to face challenges with courage and shoulder the responsibilities in social service and technical events.Ms.Pravallika Modugula, keeps herself abreast with the latest technological developments and has a flair for research. She will be an asset to the university with her pleasant and gregarious personality combined with her studious and intelligent nature. These qualities coupled with creativity and imagination makes her an excellent candidate. 
University wiki page:
http://universityinnovation.org/wiki/JNTU_COLLEGE_OF_ENGINEERING
How to create the organization dedicated individuals bettering society:
http://universityinnovation.org/wiki/How_to_create_the_organization_Dedicated_Individuals_Bettering_Society_(DIBS)
Stakeholder meet(Artifacts):
Date : 11/10/17
https://docs.google.com/document/d/1Y3p_RW2mYviq-gjY7Nc5FQNxQEl23xWNNYooj-zKt7U/edit?usp=drivesdk
Landscape Canvas :
https://docs.google.com/spreadsheets/d/1qNjiEVP6EF4Q9nsuAEA4euM0DSnHsKlheVcgl1oB4yM/htmlview#
Student Priorities page link:
http://universityinnovation.org/wiki/JNTU_College_of_Engineering_Student_Priorities
Strategic priorities link:
https://docs.google.com/document/d/1R5r68N94q6WraudyaOnf5f9tTRBB11NIDmxvz0JNha4/edit?usp=drivesdk
Pitch Video link:
Prototypes :
https://docs.google.com/document/d/1R5r68N94q6WraudyaOnf5f9tTRBB11NIDmxvz0JNha4/edit?usp=drivesdk
Change Model canvas :
https://drive.google.com/folderview?id=0B-N8rfvhNZc5NndibUJZM25sMkk
Student wiki pages:
http://universityinnovation.org/wiki/Pravallika_Modugula
http://universityinnovation.org/wiki/Lavanya_Nuthi
http://universityinnovation.org/wiki/Kiran_Jinde
http://universityinnovation.org/wiki/Karthik_Kandimalla
Design Thinking :
A)Best interview summary :
https://docs.google.com/document/d/1YU9GP062d47r5FxFN9NhjEYQ6XWfr-DC6TlLGvj8JN0/edit?usp=drivesdk
B)Best idea and prototype:  
https://docs.google.com/document/d/1ayoGwFYgLCn2maJFfd8PXqb3XyaMPbXXMPG1rYFkN-U/edit?usp=drivesdk
---
---