Fellow:Oluwakayode Jasanya
Jump to navigation
Jump to search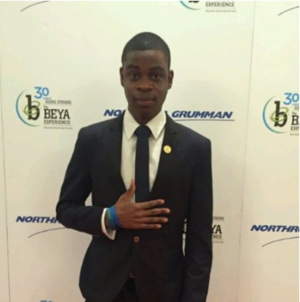 Oluwakayode A. Jasanya is a Sophomore at Morgan State University with Electrical and Computer Engineering as major, and Mathematics as a minor. Originally from Lagos, Nigeria, his burn and eccentric passion for knowledge have been invaluable to his academic and professional achievements. He enjoys every chance to work in a team and to help make others better. Consequently, he tutors in the office of Residence life and was a Mathematics tutor to 11 freshmen in the CASA Summer bridge program in 2016. He is also a STEM mentor to a middle school student in the Vivian Burey Marshall STEM Initiative Program. Furthermore, he is a member of the Honda Quiz Competition, where he voraciously learns new things with so much glee. He also is in a research laboratory in the Physics department, where he works with Arduino Uno among other devices.
In his spare time, Oluwakayode plays soccer with his peers on the school campus. He plays the board game chess with even more dexterity, adopting Mikhail Tal's weird game playing philosophy. He serves as the team's Treasurer.
Oluwakayode has the goal to be a Nobel laureate in Physics in years to come and has Nikola Tesla as his greatest motivator. He hopes to be a change agent at his school, Morgan State University, Baltimore, Maryland and he is ready to make that impression on the sands of time.
Related Links 

Morgan State University Student Priorities
Spring 2017 Fellows:
Rashae Hilson
Oluwakayode Jasanya
Fall 2016 Fellows:
Leadership Circle 1:
Ashley Gray
Jordan Joines
Sheena Williams 
Leadership Circle 2:
Leadership Circle 3: 
Leadership Circle 4:
Leadership Circle 5:
Spring 2016 Fellows:
Fall 2015 Fellows:
Fall 2014 Fellow:
Fall 2013 Fellow:
---
---