Fellow:María Josefina Martínez
Jump to navigation
Jump to search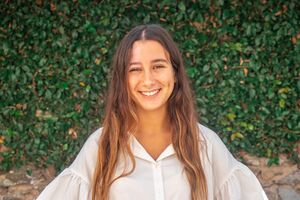 School: Universidad Católica del Uruguay
What she does now: Junior year electronic engineering student & guide dogs organization volunteer
Contact her about: Teaching design thinking, taking studies to the next level, studying abroad, training puppies and googling (yes, to google is a science)!
Email: josefinamcalero@gmail.com
Maria Josefina Martinez (call her Jose) is a University Innovation Fellow and she is a junior year electronic engineering student at Universidad Católica del Uruguay. Once finished this career, she wants to specialize in the Biomedical and design Engineering field. She actually lives in Ciudad de la Costa, located on the outskirts of Uruguay's capital, Montevideo.  
Since she was a little girl, she always came up with crazy ideas to solve common daily problems. Currently, she wants to develop and carry out these ideas, inpired by her sister who is 17 years older than her and always supporting her in everything she wants to achieve.  Being crazy for invenntions and her interest to know new people were the main reasons she decided to postulate for the UIF program during the first month of her freshman year, and she made it!
Josefina feels distinguished by her Vitiligo, a skin condition that determines her skin to have two diferent colours in her face. This motivates her to come along with other people with the same condition. Actually, she is taking forward an awarness campaign about vitiligo in her country, with another UIF Camila Massa, with whom she shares the same skin contition.
Inspired in the University innovation fellow program, Josefina discovered her passion for creativity and innovation and participated in hackatons to gain experience in the field. In 2019 her team won the "Rally Latinoamericano de Innovacion", an 28hr International hackaton, getting the first national place and the second international place. In this experience, the team, "Laikers 98" developed a security device called SOX to improve rescues after a building collapse.
Last year, The University Innovation fellows cohort of her University impulsed the creation of a new community in her campus called "Comunidad innovadora UCU" ("Innovative community UCU") whith the aim of impulsing the same values and ideas that the program searches for, but extendign beyond it. Now the community counts with almost 30 students, serching to improve their innovation and entrepreneurship skills and also to generate ideas to spread this values through the campus. As a fellow, she had also lead Design Thinking workshops to pre-university students, student representatives and business students and was also named UIF Fab 2020 as her two campus fellows Victoria Ferrer and Julieta Caputo.
She firmly believes that daring to experiment new things is the best way to learn what is best for each of us. Walking the talk, she is always looking for new things to do, during 2019 and 2020 she raised a future guide dog puppy as a volunteer. After meeting another girl who did this she got interested and become the first student in campus to do it, with a puppy called Lola, form the litter number 12 of the country (yes, it's pretty new in Uruguay!). As its a very new topic, she had to deal with many permitions and she is now pursuing consciousness on this. Nowadays she was given acceses to the "IGNIS convoca" program which gave her the opportunity to produce a documentary film about the importance of guide dogs and the importance of including them in society.
During her spare time, she loves going to the gym, spending time with her family, specially with her two little nephews, Ema and Franscisco. She also considers to be really good googling and she loves spending hours reading about random topics and getting informed, but mostly reading about cities, aiplanes and airports, you can imagine, she also loves traveling.
Related Links
Universidad Catolica Campus Overview
Universidad Catolica Strategic Priorities
Maria Josefina Martínez
---
---