Fellow:Magann Dykema
Jump to navigation
Jump to search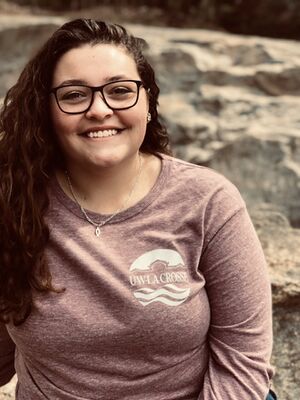 Serving as UIF Since: Spring 2015
School: Michigan Technological University
What she does now: Graduate student at the University of Wisconsin-La Crosse
What that means: She's pursuing her passion in working with students!
Contact her about:  Teaching design thinking to all ages, improv, organizing things
Email: maganndykema@gmail.com
Phone: 
Last Updated: November 25, 2019
Magann Dykema, originally from Norton Shores, Michigan, is a University Innovation Fellow from the Spring 2015 cohort. She is a graduate of Michigan Technological University with a B.S in Civil Engineering with a focus on Water Resourcing and a Certificate of Global Technological Leadership through the Pavlis Honors College. She is currently pursuing a M.S.Ed. in Student Affairs Administration from the University of Wisconsin-La Crosse. 
Magann is a strong believer in paying it forward. Because of this, she spent her first two summers of her college career working for Michigan Tech's Summer Youth Programs because the programs she attended in high school played a large role in her decision in school and major. Additionally, she spent time as an Orientation Team Leader paying it forward because the guidance from her OTL helped make the transition to college easier.
At Michigan Tech, she worked on spreading the culture of innovation by planning and facilitating creativity, design thinking, and innovation events on campus. These include, but are not limited to, #uifresh during orientation, an elementary aged after-school class, and smaller workshops and events. She also was a part of The Alley Makerspace on campus where she was the Operations Coordinator and the Student Director.
When not hard at work, Magann can be found trying to relax by striking it up on the nearest lanes, drinking coffee, watching Gilmore Girls, exploring the outdoors, cheering on the Detroit Tigers, or creating memories with friends and family.
Check out this blog post Magann wrote about her trip to the Rocky Mountain Regional Meetup: http://universityinnovationfellows.org/uvuifamily/
Ignites
Silicon Valley Meetup November 2017:
Silicon Valley Meetup March 2017:
Silicon Valley Meetup 2016:
More about Michigan Tech
Magann Dykema - A University Innovation Fellow from Michigan Tech
Michelle Hoard - A University Innovation Fellow from Michigan Tech 
Josh Jay- A University Innovation Fellow from Michigan Tech
Carly Joseph - A University Innovation Fellow from Michigan Tech
Rachel Kolb- A University Innovation Fellow from Michigan Tech
Josh Krugh- A University Innovation Fellow from Michigan Tech
Rob Lambert- A University Innovation Fellow from Michigan Tech
Kyle Ludwig- A University Innovation Fellow from Michigan Tech
Nichole Mackey - A University Innovation Fellow from Michigan Tech
Nate Peterson - A University Innovation Fellow from Michigan Tech
Arsh Sahu - A University Innovation Fellow from Michigan Tech
David Shull- A University Innovation Fellow from Michigan Tech
Brad Turner- A University Innovation Fellow from Michigan Tech
Adam Weber- A University Innovation Fellow from Michigan Tech
About the University - Learn about Michigan Tech including a landscape analysis
Michigan Tech Student Priorities - Learn about what students are working on
http://www.mtu.edu/ - Michigan Tech's website
---
---