Fellow:Lucas Funk
Jump to navigation
Jump to search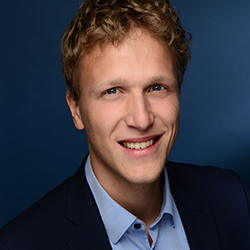 Lucas is studying International Management and Engineering at the Technical university of Hamburg and is part of the 2019th University Innovation Fellow Cohort. Thereby he is, together with his team mates, part of the second leadership circle of his campus. During his studies and education his focus lies heavily on renewable energy, environmental topics and innovation. That is why Lucas acquired his bachelors, which he also did at the TUHH, in the program General Engineering Science where he set his focus on Environmental and Energy Technologies. Furthermore, he went abroad to spend a semster focusing on technology management at the Technical University of Tallin in Estonia, which is famous for its orientation towards innovation and entrepreneurship.
Off campus, Lucas enjoys spending time outside doing sports or just appreciate the sun while reading a good book. He can also be found spending time with friends philosophize about everything and nothing at one, trying to solve the worlds problems. Through his friends Lucas also came into contact with the UIF program: Two of his close friends were part of the very first leadership circle at his university. Furthermore, he was able to gain further experience about innovation and management from a corporate perspective druing his time at one of the largest consulting and audit companies worldwide.
With this kind of background Lucas is looking forward to tackle the issues in higher education at his university together with his fellow team mates. He is always trying to do so in a friendly and humorous way, loving to exchange ideas and work on challenges along with others.
His fellow members of the 2019 leadership circle are:
Related Links
Hamburg_University_of_Technology
Hamburg_University_of_Technology_Student_Priorities
---
---