Fellow:Lara von Däniken
Jump to navigation
Jump to search
Lara von Däniken is a University Innovation Fellow and an undergraduate student studying Design Management International with a focus in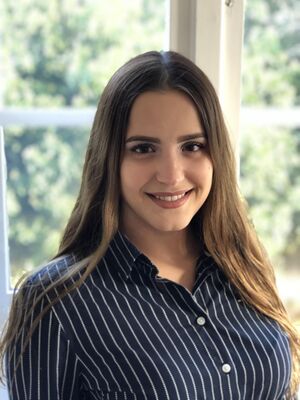 communication at Lucerne University of Applied Sciences and Arts (also called Hochschule Luzern or HSLU). Design Management is one of the newest bachelor programs at HSLU and is described as follows:
"Design is the act of making deliberate improvements and solving problems. Design management, on the other hand, refers to the activities within organizations that support the design process. This can involve leading a design team (such as at a design agency or department), applying design methods to other areas internally, or developing a culture internally that focuses on solving problems." (source: HSLU)
Lara grew up close to Basel and moved to Lucerne as soon as her studies at HSLU started. Already during the first year of the bachelor program, she was exposed to the University Innovation Fellows program during a public event called "Design Managers Talk" at HSLU. 
At HSLU, Lara has been in the role of the student's counsellor during the entire first year. Afterwards, in the second year, she joined the student association lead team which represents the whole bachelor program "Design Management International", and which aims to improve the DMI student experiences at HSLU.
One of the reasons why Lara chose to study Design Management International, is because of the international context. Her passion is to work in an international environment and getting to know people from different cultures and backgrounds. This is also why she chose to work in different countries, such as Singapore, Ecuador or the UK and speaks six different languages.
Besides the university, Lara offers consultancy to a start-up company, specialized in touchpoint management, in order to improve customer experiences and drive forward an innovative and agile culture. In her free time, Lara likes to make music, to be outdoors and to travel.
Related Links
Lucerne University of Applied Sciences and Arts
Lucerne_University_of_Applied_Sciences_and_Arts_Student_Priorities
University Innovation Fellows, 2019:
Lara_von_Däniken
University Innovation Fellows, 2017:
---
---