Fellow:Kane Agan
Jump to navigation
Jump to search
Kane Agan is a University innovation Fellow at the University of Alabama at Birmingham. Since his freshman year, he has tried majors from psychology to civil engineering, settling into Public Health with a concentration in Environmental Health and minors in Art History and Peace, Justice and Ecology. 
At UAB he is a founding member and the Assistant Student Director of Outreach and Education at the UAB Makerspace. He has done research in a conservation biology lab and a lab studying the biopsychological basis of peaceful and agressive behavior. He is a sophomore in the University Honors Program, a university innitiative that replaces the core curriculum with interdisciplinary classes. He serves as the Secretary of the Theta Chi Fraternity on campus and on the UAB Counseling Services Student Advisory Board. 
In the future, he hopes to use his passions for community engagement, art and sustainability to create new standards for development in the third world. After graduation he will enter the art history masters program with a concentration in the historical and contemporary practice of how people use art to heal. After, he will enter a public health masters program in which he will enroll in the Peace Corps after his course work is complete. Once he returns to the U.S. he will serve as a Leadership and Education Consultant for his fraternity, travelling the country to recruit and found chapters. After, he hopes to pursue a PhD in Environmental Science, Policy and Management at The University of California at Berkeley and work for the United Nations Development Comission.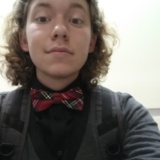 Related Links
University of Alabama, Birmingham
University of Alabama, Birmingham Student Priorities

Fall 2016
Fall 2015
---
---