Fellow:Jeni Weber
Jump to navigation
Jump to search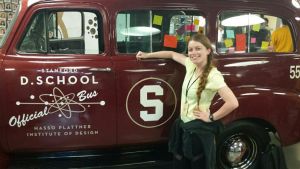 Serving as UIF since: Fall 2016

School: University of Alabama at Birmingham
What she does now: remote teacher
What that means: teaches English online while living abroad

Contact her about: marketing, startups, art, coffee, makerspaces, and designing your life after graduation!
Email: jeniweber19@gmail.com


Jeni Weber is a former University Innovation Fellow who graduated from the University of Alabama at Birmingham (UAB) in April of 2017. In college, she worked with the first student startup company of UAB's Innovation Lab. This experience was her introduction to the world of innovation and entrepreneurship.

Her work at UAB involved creating the UAB Makerspace with her cohort. The UAB Makerspace is a student-run organization that provides people with the resources to make their ideas happen. Jeni also worked with students and faculty on reframing the freshman experience. She and her cohort advocated for changes in the university's core curriculum.

Jeni has a Bachelor of Science degree in Marketing with a concentration in Marketing Management. She has experience marketing small businesses and startups in the tech industry. She continues to apply the design thinking she learned from UIF to her life by prototyping different careers and lifestyles. She believes in staying curious and open to new opportunities.

Since graduating, Jeni has been a digital marketing consultant, a yoga studio assistant, and an English teacher. She spent 6 months teaching English in Thailand and learning about the educational ecosystem there. Jeni is currently living in Bulgaria learning from a community of people who work online.


Related Links
University of Alabama, Birmingham
University of Alabama, Birmingham Student Priorities

Fall 2016
Fall 2015