Fellow:Jeni Weber
Jump to navigation
Jump to search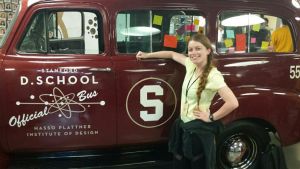 Serving as UIF since: Fall 2016

School: University of Alabama at Birmingham
What she does now: content marketing and writing for an education company
What that means: she helps teachers and students with a tool for grading and analyzing learning
Contact her about: marketing, startups, traveling, art, coffee, makerspaces, and designing your life after graduation!
Email: jeniweber19@gmail.com


Jeni Weber earned her Bachelors degree in Marketing from the University of Alabama at Birmingham (UAB).

She is now a marketing specialist for an education company that focuses on unlocking the creative wisdom of teachers. Previously, she was the social media and digital marketing manager for an education technology startup that used AI to read and grade student handwriting, offering teachers deeper insights and bridging the digital divide for students. She's worked on implementing marketing campaigns, creating content, customer support, and product quality assurance. Being able to wear many hats is what she loves most about the startup environment.

Jeni's introduction to startups was in 2015 when she joined the first student-created startup company of UAB's Innovation Lab, Satterfield Technologies. She worked on business models, branding, and outreach. This work allowed her to rapidly learn through both the Innovation Lab's mentors and hands-on experience. It was her initiation to the world of innovation and entrepreneurship. Jeni became a University Innovation Fellow in the Fall of 2016, and attended the Silicon Valley Meetups in March 2017 and November 2017. Her work as a Fellow involved creating the UAB Makerspace, a hub for innovation and entrepreneurship on campus. She enjoyed the process of helping the space grow and facilitating educational events there.

Jeni graduated in April of 2017, but she continues to contribute to the University Innovation Fellows program. Since 2017, she has annually interviewed candidates for the program and supported new fellows through their 6-week UIF training. Since graduating, Jeni has implemented the design thinking she learned from UIF to her life. She's worked as a freelance marketer, a customer assistant at a yoga studio, and spent a year teaching English in Thailand and Bulgaria. Her current job integrates those experiences, as well as her love of fast-paced startup culture. She currently lives in Denver, Colorado.


Related Links
University of Alabama, Birmingham
University of Alabama, Birmingham Student Priorities

Fall 2016
Fall 2015
---
---