Fellow:James Ryan
Jump to navigation
Jump to search
I am a new University Innovation Fellow who attends the University of Technology Sydney (UTS), in Australia. I am currently commencing my third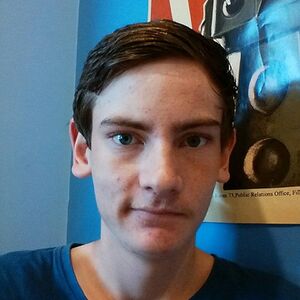 year studying Mechanical and Mechatronic Engineering. I decided to study mechatronics because it seemed to be an excellent opportunity to apply my passion and skill for programming into the physical world.
As an active member in my university environment, I decided to join the University Fellows because it is an excellent opportunity to improve upon how i lead my peers and teach my fellow students. I look up to the previous fellows from my university as leaders and ambassadors, and i aspire to have impact as positive as theirs.
One of my involvements is an executive role in the robotics society, where i organize, and teach introduction to robotics workshops and organize events. Through the society i also get to work on larger scale projects, such as my favorite project: Robot Wars! (which is the Battle Bots in America). I also collaborated with all current and previous UIF's to facilitate the design and creation of a maker space in our university's Engineering Building.
If you couldn't tell, my greatest passion is programming and robotics. I am currently a researcher for GBDTC (at UTS), where i am researching new methods to perform group counting using neural networks. I love playing music, especially piano, but i also play guitar, bass and i am learning violin. I play cricket, soccer and am giving archery a solid attempt. I'm always on the lookout for new experiences and things to learn.
Student Contributors
---
---