Fellow:Ishita (Ishi) Sharma
Jump to navigation
Jump to search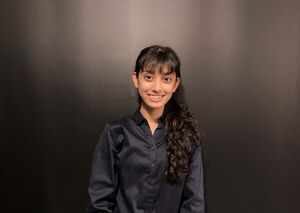 Name

Ishi Sharma

School (Cohort)

University of North Florida (2023 cohort)

Majoring in

Business Intelligence

Country

United States of America

Email
Bio
Ishita (Ishi) Sharma is a junior at the University of North Florida, majoring in Business Intelligence.  She transferred to the University of North Florida (UNF) from the Symbiosis Centre for Media and Communication in Pune, India, which is where she spent the majority of her life.  Several years back, her family's relocation gave her the opportunity to complete a few of her elementary and middle school years in New Jersey.  This offered her great direction in terms of honing her writing, leadership, communication and adaptation skills.  However, this period of extensive learning was followed by the most trying time of her life: returning to her previous school in India. It was difficult to adapt to a new education system alongside learning multiple new languages and finding a place for herself.
For a while, school was a dreadful time…until opportunities slowly began to surface, in the form of solo auditions, debates and the literary club.  Ishi began to maximize her time in school by using these extracurricular activities to step out of her comfort zone and learn new skills.  With persistence and hard work, she was upraised to the choir's lead soloist, voice actor, magazine & literary club editor, and the winner of several public speaking competitions.  After a few failures in the initial semesters, she entered high school as a straight-A student, with her growth trajectory shooting upwards—emotionally, mentally, and academically.  The adversity that once seemed a stumbling block turned into a stepping stone towards developing resilience and honing her skills, and these challenges have been crucial in shaping her into the person she is today.  She spent two years studying Communication (Advertising) at her former college in India and transferred to UNF in the fall of 2022 with this drive to continue learning and growing.
Growing up, Ishi has loved words and numbers almost equally, and has excelled at writing just as much as she has at math.  On transferring to UNF, she got another chance to explore her interests and aptitude, and was soon able to reaffirm her love for working with numbers. After realizing the value of a quantitative degree in today's data-driven workplace, she decided to switch to a major that allows her to be both creative and analytical. 
This summer, Ishi worked as an Advanced Analytics Intern at VyStar Credit Union, making it her first professional step into the field of Business Intelligence. She has a broad range of professional experience as a Communication major, including working as a Marketing & PR Associate at an online reputation management firm, a content writer at a private charter company and on event management, student film productions and podcasts.  Outside of school, she enjoys singing and plays the acoustic & electric guitar and the keyboard.  She also enjoys writing and filmmaking, and has written two award-winning stories on an animated storytelling platform with over 30k readers.
At her university, Ishi balances her creative and quantitative interests to continue diversifying her experience.  She is the Radio Program Director at Spinnaker, UNF's student-run media organization.  She is also a student at the Hicks Honors College, and has received scholarships for her work as a photographer for the Honors college and her work on a software-testing project in the last semester.  She is looking forward to the UIF training and embarking on a journey to make a difference in her university.
Achievements
University of North Florida – President's Honor Roll (Spring 2023)
University of North Florida – Dean's List (Spring 2023, Summer 2023)
University of North Florida – Hicks Honors Fellows Award (Spring 2023, Fall 2023 – Spring 2024)
Symbiosis Centre for Media and Communication – Class Topper (Spring 2022)
Symbiosis Centre for Media and Communication – Best Solo Singing Award (Spring 2022)
Symbiosis Centre for Media and Communication – Batch Debate Winner (Fall 2021)
Symbiosis Centre for Media and Communication – Teleprompter Poetry Winner (Fall 2020)
Loyola High School and Junior College – 1st in Proficiency in the Class of Computer Science
Episode Interactive (Animated Storytelling Platform) – "That's My Jam" Award for the Best Story about Music (2019); "Hidden Gems" Award for the Best Story by a Small Author (2020) – 30,000+ readers combined
Social media profiles
LinkedIn: https://www.linkedin.com/in/sharmaishita/
---
---