This site will go under maintenance from 25-11-2020 to 30-11-2020. It might not reachable during the maintenance period.
Fellow:Elizabeth Popoola
Jump to navigation
Jump to search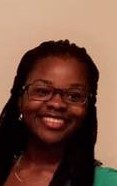 Elizabeth Popoola, also known as Lizzie, is a University Innovation Fellow. She is a sophomore studing Civil Engineering and Mathematics at Missouri University of Science and Technology. She is the one out the three Fall 2016 Fellows at her university. She is involved in multiple activies on her campus where she takes on an active role in each activity. 
Lizzie is the current vice president of her professional organization known as National Society of Black Engineers, she is also the acting president of this organization for Fall of 2016 as the main president is on a co-op position. She is a mentor in programs such as Emerging Leaders Institue and Student Diversity and Outreach Womens Program. She is also a PRO Leader on her campus, menaing that she deals with anything and everything involving new students as well as transfer students.
Related Links
Missouri University of Science and Technology
Missouri University of Science and Technology Student Priorities
University Innovation Fellows
Fall 2016:
Elizabeth Popoola
Spring 2016:
Fall 2015:
Spring 2015:
---
---